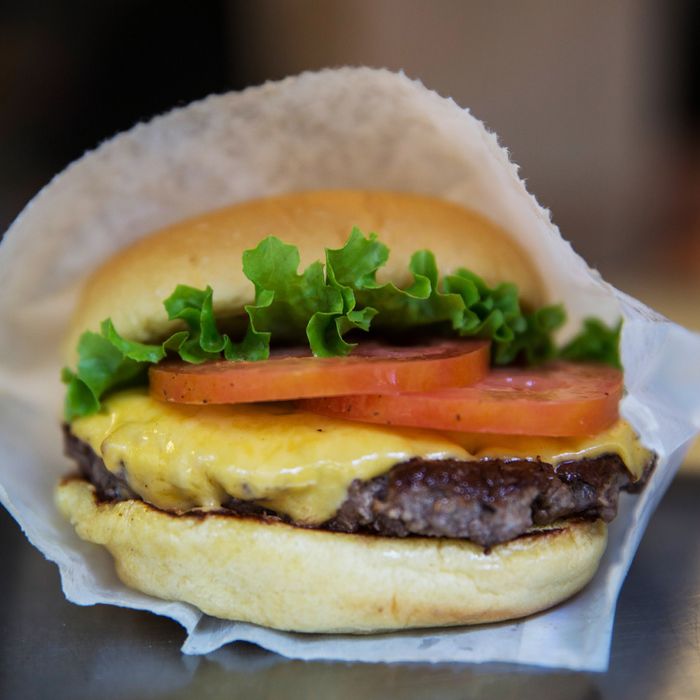 Miracle on 36th Street!
Photo: Andrew Burton/Getty Images
Danny Meyer's Shake Shack has signed on for 3,265 square-feet at 1333 Broadway, which is at the corner of 36th Street and near the heart of Herald Square. The newest burger restaurant will open in the fall of 2015 in one of the city's most densely foot-trafficked areas, and not counting its Upper East Side, Upper West Side, and Battery Park City locations, the opening will mean that the particular swath of Manhattan from 23rd and 46th Streets will eventually have a grand total of five Shake Shacks. That's easily got to be the world's most densely Shacked area.
The news comes as the burgeoning chain is reportedly working on an IPO with a rumored $1 billion valuation, so more King Kong-style moves and announcements are presumably in the works. If Starbucks doesn't get there first, Manhattan will eventually just be one big Shake Shack. You'll be able to see at least one other Shake Shack from any given Shake Shack line, and crinkle-cut fries will never be more than a reach away. Maybe delivery comes next?
Related: As Burger-Chain Growth Slows, Shake Shack Aims for $1 Billion IPO
[NYP]