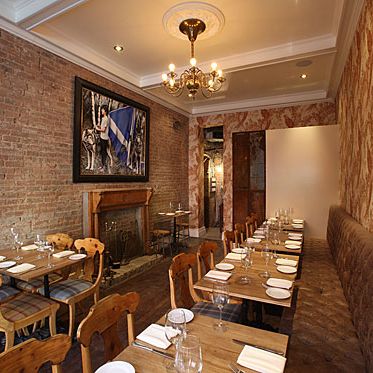 You can eat at Highlands, too.
Photo: Melissa Hom
Today, millions of Scots headed to the polls to vote on independence from the U.K. — and the results will start rolling in at 5 p.m. ET. If you're an expat, news junkie, or a good old-fashioned sot, you might want to watch the historic vote unfold at a local Scottish bar. We've rounded up a quick list, straight ahead.
1. St. Andrews
The staffers at this Times Square bar actually wear kilts. Plus: There's an extensive selection of United Kingdom draft and bottle beers and and single-malt Scotches.
2. Caledonia Scottish Pub
At this Upper East Side pub, you'll find over 180 kinds of whiskey, from five different regions.
3. Isle of Skye
The owners of Caledonia also own this Scottish pub in Williamsburg.
4. Highlands
This West Village gastropub has a stand-out food menu — the classy place to watch the results roll in.
5. Iona
Another strong option in Williamsburg: Iona boasts a beer garden and, often, live music.
And while we can't confirm that Shoolbred's and Deacon Brodie's will show the results on TV screens, you can be sure that the vote will be a major topic of conversation there, too.