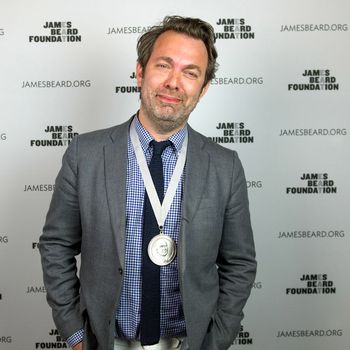 Sachs, with one of his many Beard awards.
Photo: Ken Goodman/James Bead Foundation
The food writer Adam Sachs, who's served as editorial director at Tasting Table since June of 2013, has now joined Bonnier's food glossy Saveur as editor-in-chief. He replaces James Oseland, who resigned last month after he was informed the magazine's publisher was planning to reboot the 20-year-old brand and appoint one person as editorial director to "oversee its presence across all platforms."
Breaking news! We are so excited to welcome Adam Sachs (@sachsmo) as our new editor-in-chief.— SAVEUR (@SAVEURMAG) September 22, 2014

In addition to working on an upcoming memoir, Oseland has moved to Rodale, where he is now editor of a new brand.
Sachs is the recipient of numerous James Beard awards and has been writing about food for more than 15 years, including pieces for Condé Nast Traveler, GQ, Bon Appétit, Men's Vogue, Details, Food & Wine, Departures, and more. A lot of Sachs's longer work involves deep dives into the realm of Michelin-starred chefs — here's a video shot for Tasting Table, where he and René Redzepi enjoy breakfast at PDT.
Big time congratulations to @SAVEURMAG for getting @sachsmo as the new editor in chief #scoop— Rene Redzepi (@ReneRedzepiNoma) September 22, 2014

Related: Saveur Editor-in-Chief James Oseland Is Leaving the Magazine [Updated]