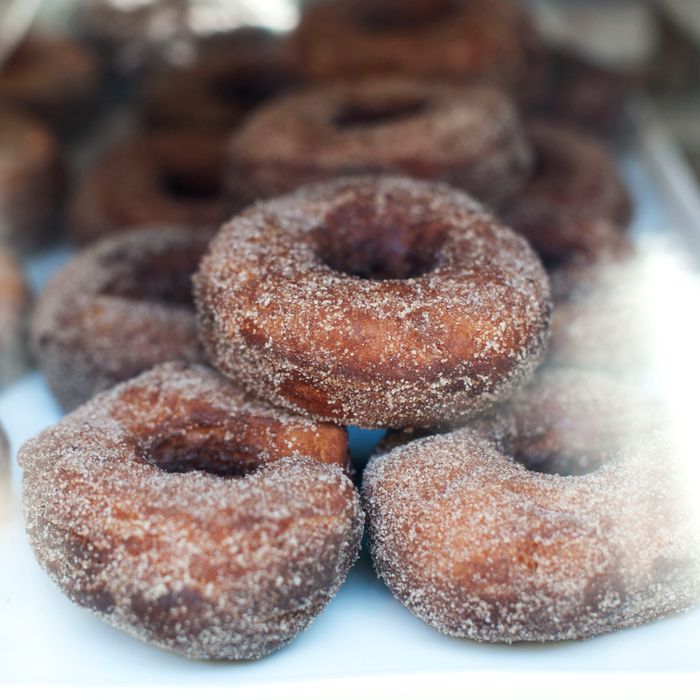 Blue Ribbon Bakery Market's challah doughnuts.
Photo: Diggy Lloyd
The Jewish New Year starts on Wednesday, September 24 (and ends in the evening of the 26th), and regardless of your religious adherence, New Yorkers can agree that it's one of the best food-centric holidays — a perfect excuse to feast on braised brisket, matzo-ball soup, chocolate babka, and honey cake. Whether you're looking to pick up a spread to go or to take your bubbe to a nice sit-down meal, Grub's got you covered. Here are ten solid ways to observe the high holiday, straight ahead.
Sip matzo-ball soup at All'onda.
On September 24 and 25, the Italian restaurant will serve up a special prix-fixe, family-style menu for $62 per person (and a $38 wine pairing). It includes marinated whitefish with raisins and capers, matzo-ball soup with tomato schmaltz, roasted lamb, and, of course, warm apples and honey.
Order catering from Nourish Kitchen + Table.
The West Village restaurant's spread, which costs $160 and serves four, includes your choice of brisket or free-range chicken, sweet and savory noodle kugel, roasted cauliflower, and jeweled quinoa. You can also order any dish à la carte.
Slurp Rosh Hashanah ramen at Dassara.
Yes, you read that right: The Gowanus ramen restaurant will serve a special holiday ramen, plus a chopped-liver Japanese meatball (tsukune) and a smoked-salmon-and-cream-cheese mazemen.
Serve Blue Ribbon's challah doughnuts for dessert.
Blue Ribbon Bakery Market's Rosh Hashanah menu includes smoked-fish consommé with whitefish matzo balls, latkes with apple sauce, braised brisket, and challah doughnuts with honey-chocolate sauce. Even better: The whole menu — available starting September 24 — is à la carte.
Eat short ribs at Jack's Wife Freda.
The cool kid's Jewish restaurant will serve a special honey-braised short rib with carrots and potatoes — and also provide complimentary apples with honey, pomegranate seeds, and challah.
Feast on Mile End Deli's brisket.
Take your bubbe over to the Bond Street location for a $55 menu of matzo-ball soup, root-vegetable tsimmis, fried Brussels sprouts, braised brisket, and Breads Bakery's babka. Reservations required.
Pick up pastries at Breads Bakery.
Or you could go straight to the Jewish bakery, which is offering a holiday menu of festive challahs (including a glazed challah braided with marzipan and topped with sliced almonds), honey cakes, and Best of New York–winning chocolate babka.
Try Bklyn Larder's chopped liver.
The extensive to-go menu is priced by the pound or quart, with options like honey-glazed carrots, fresh horseradish, poached salmon, and honey-date cake.
Snack on Peck's gallettes.
This Jewish eatery in Clinton Hill bakes apple-and-honey galettes for the holiday, as well as round apple challah.
Eat all the knishes at Katz's Deli.
The New York institution's holiday menu, available for takeout, includes gelfite fish, potato and noodle kugels, and both square and round knishes. Oh, and don't forget the corned beef.