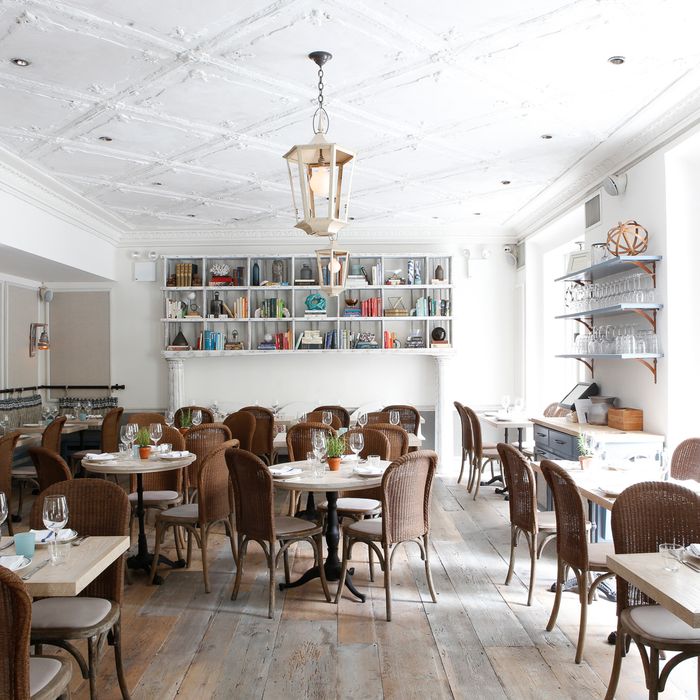 Haunted?
Photo: Courtesy of Claudette
The news that Danny Bowien will reopen Mission Chinese Food in the former Rosette space got Grub thinking about cursed restaurant spaces. After all, Mission Chinese will be moving into a location that housed both LTO and Rosette in the past few years. But is there really such a thing as a cursed space, one that houses project after project, only to see each inevitably fail? It can seem that way, but every once in a while an operator will break through, landing a successful spot in a site that formerly saw nothing but bad luck. In fact, here are five such places that have done just that.
24 5th Ave. (Greenwich Village)
Current: Claudette
Previous: Cru, Lotus of Siam, Washington Park
You'd think that a corner space in the heart of Greenwich Village would be prime real estate, but for years, it's housed a string of failures. (Though it seemed that wine-centric Cru could once break it.) Lotus of Siam — the first branch of a beloved Las Vegas café — opened with lots of hype in the fall of 2010, but closed less than two years later. Claudette opened in the spring, and while it's too soon to tell for sure, the reviews are mostly positive, and it seems that the Rosemary's team has once again won over its neighbors.

265 Elizabeth St. (Nolita)
Current: The Musket Room
Previous: Elizabeth, Rialto
Before Alexander Waterworth Interiors swooped in and transformed the Musket Room into one of the city's most handsome restaurants, the structure — which includes a spacious garden — was a total nightmare. (At one point, the back part was literally sinking into the ground.) The New Zealand restaurant recently celebrated its first anniversary — a great year that included a Michelin star and several glowing reviews.

230 Fifth Ave. (Park Slope)
Current: Dizzy's
Previous: Comida, Playa, Lookout Hill Smokehouse, Biscuit BBQ, Night and Day, Bibi's
It's hard to keep track of the number of restaurants that have opened and closed in this corner space over the span of a few years. And Dizzy's, a diner that serves simple comfort food, looked like it might be the next in line. Yet the restaurant has beaten the odds — it's perpetually packed, especially at brunch.
157 Ludlow St. (Lower East Side)
Current: SakaMai
Previous: Tenement, Blue Seats, The Draft/Bar 157
Before SaKaMai opened in early 2013, six restaurants and bars had closed in the Ludlow Street space within six years. A high-end Japanese "sake lounge" doesn't sound terribly promising, but it's added a level of refinement to the block. Case in point: a popular "Egg on Egg on Egg" dish of sea urchin and caviar topped over scrambled eggs. Critic Ligaya Mishan is a fan.

135 E 62nd St. (Upper East Side)
Current: Fishtail by David Burke
Previous: Zoe Townhouse, Jovia, Rouge
Though the townhouse space was thought to be yet another haven for failed restaurants, the David Burke-branded seafood restaurant is in its sixth year of business — a solid run for any restaurant.
Related: Get Ready for Mission Chinese Food's Permanent Return