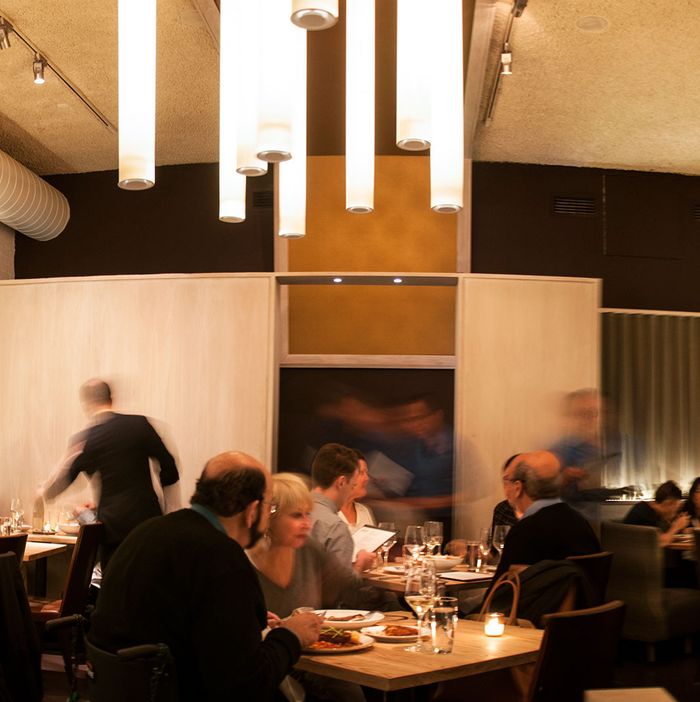 Photo: Sarah Silberg/New York Magazine
If you'd asked me a decade or so ago to identify the most likely survivors from the generation of "superstar" chefs who roamed the city's fine-dining landscape like dinosaurs before the great gourmet apocalypse, David Waltuck would have been right at the top of the list. After all, he was incorporating fusion ingredients from the markets in Flushing and Chinatown into his cooking while David Chang and Danny Bowien were still shooting spitballs in grade school. In addition to his considerable skills as a classical chef (at Chanterelle), he's also an accomplished bistro cook (at Le Zinc), and if you're looking for a primer on the Great Kitchen Slave Revolution, a good place to start is Waltuck's durably excellent cookbook Staff Meals, which was published in 2000 and contains seminal chef-savvy recipes for now-trendy comfort-food specialties like burgers, fried chicken, and even a corn dog.
So it's a mild surprise that Waltuck's eagerly awaited new Flatiron venture, élan—it's his first restaurant since Chanterelle was shuttered five years ago—doesn't feel slightly more, er, contemporary than it does. The space, on East 20th Street, features a drinking-and-dining counter up front made of dark-gray concrete, in accordance with today's style, although while you sip your jauntily named mixologist creations (This Just In or M.F.K. She's a Peach), you will find yourself contemplating giant gloomy self-portraits of a middle-aged Chuck Close along one wall. The dining room in the back is hung here and there with grayish silver curtains and lit, like an old-time downtown art gallery, in a flat, bright light. The banquettes are gray-tinted, too; exposed ductwork runs along one side of the ceiling; and the only decorations are a series of mirrors, one of which is an art installation being held up by what looks like a length of sailor's rope.
This curiously flat tone extends to Waltuck's menu at élan, which begins in a promising way but loses a little of its creative steam as dinner progresses. The starters include servings of tasty, fresh-baked "everything pretzel" rolls with spoonfuls of soft whipped coarse-grain-mustard butter for the table, and bowls of guacamole crowned, somewhat awkwardly, with pats of uni and fans of fried taro root, instead of corn chips. You can complement these finger dishes with a selection of crunchy fried South Bay Blonde oysters (dabbed with a fine caviar-laced rémoulade), an exceptional sampler of old-fashioned country terrines (try the bacon-wrapped pork, leavened with mushrooms), and the kind of round little foie gras "pops" (flavored pleasantly with figs and crushed pistachio) that chefs like David Burke popularized back during the days when New Yorkers viewed foie gras as an unexpected delicacy.
Of course, the time when foie gras lollipops (or fried taro-root chips or even uni, for that matter) elicited gasps of wonder in this jaded, comfort-addled town passed into the mists of history long ago. These days, the city's eaters are clamoring for gourmet recipes for chicken potpie not unlike the one on page 154 of Staff Meals, along with BLTs dripped with aïoli (page 137) and the kind of buttermilk-dipped fried chicken that Waltuck touched, radically, with Tabasco and harissa when he was feeding his staff decades ago (page 157). None of these dishes are on the menu at élan, alas, although you can get a nice rendition of the chef's famous grilled seafood sausage (served as an appetizer, with a healthy spoonful of sauerkraut beurre blanc), along with pot stickers that are more sticky than crispy and filled, like the Sunday pierogi special at your local country club, with deposits of mashed potato and summer truffles.
The simpler pleasures tend to be the best things at élan, although too much of the cooking feels like it's come from the deliberations of a somewhat dated dining focus group instead of from the heart. I liked the crisped, curling zucchini blossoms with lemony crème fraîche, and the summer gazpacho, which the kitchen sweetens with watermelon and tops with a slim crackle of ham. Old favorites like tea-smoked salmon and pan-roasted chicken breast have their charms, although the natural barnyard goodness of the latter is dampened somewhat by a pour of soupy corn miso broth. Waltuck's much heralded General Tso's sweetbreads were a gummy disappointment, however, and so were other mash-up oddities, like the duck-and-foie gras burger (an off-the-menu item muffled in a wad of sweet onion chutney), and the grilled mackerel, which is set atop a thick, gray mound of risotto seized with dashi and clams.
It's possible that you'll be able to procure the chef's signature fried chicken at élan one day, or the aforementioned BLT sandwich, or an old-fashioned beef burger, like the one described on page 73 of Staff Meals, molded around pats of freshly churned butter seasoned with chopped garlic and Dijon. Until then, fans of Waltuck's more casual, unreconstructed style of cooking can find comfort in the no-nonsense weekend brunch, which includes fluffy pancakes softened with ricotta, a properly rib-sticking Chef's Breakfast (two eggs over easy, Nueske's bacon, and smashed potatoes), and a duck egg pooled with duck confit and duck-fat béarnaise over a crisped wheel of hash browns. The desserts are more complex in their design but slightly less satisfying, although if you enjoy berries, the classically made blackberry-blueberry tart works very nicely once you remove the strange pickle-colored scoop of basil ice cream from its top.




élan

43 E. 20th St., nr. Park Ave. S.; 646-682-7105; elannyc.com

Hours: Dinner Sunday to Wednesday 5:30 to 10:30 p.m., Thursday to Saturday till 11 p.m.; lunch Monday to Friday 11:30 a.m. to 3 p.m.; brunch Saturday and Sunday 11 a.m. to 3 p.m.

Prices: Appetizers, $3.50 to $19; entrées, $27 to $35.

Ideal Meal: Country terrines, zucchini blossoms and/or seafood sausage, chicken or salmon, berry tart.

Note: Daughter No. 2 gives the off-the-menu brunchtime Shirley Temple "a ten out of ten," for the record.

Scratchpad: One star for the cooking technique and another for the memories. Minus a star for the flat, slightly dated décor and presentation.
*This article appears in the October 6, 2014 issue of New York Magazine.