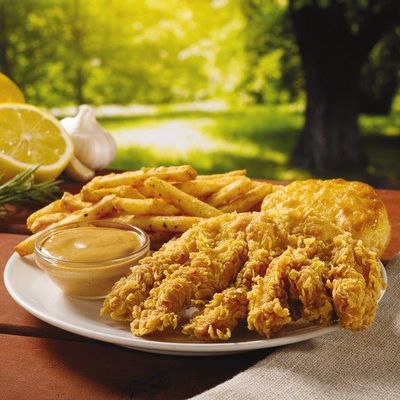 Look, just like they do in Louisiana.
Purists know that beer-can chicken is one of those great culinary inventions, a whole bird slow-roasted with half a can of beer stuffed inside. But for the month of October, the fast-food chain Popeyes will offer it in a less conventional form: beer-less, fried, and cut into strips. "Years" of R&D; are behind it, the company claims, but anyone with eyes can see that whatever this thing is, it's not beer-can chicken.
The chain's VP of culinary innovation explains that "While Popeyes Beer Can Chicken is not made with any actual beer," they've taken it "to a whole new level" with a proprietary beer-can-chicken blend (apparently: butter, garlic, rosemary, cayenne, lemon zest, and "secret" flavoring that's presumably cheap American lager–esque). Naturally, it comes paired with a creamy cayenne dipping sauce.
Hey, this might taste great for all we know — Grub's official stance is that Popeyes makes some very good fried chicken indeed — but they need to call this invention what it really is: Spiced Fried Chicken Strips That Might Taste Vaguely of Beer But Which Are Decidedly Not Beer-Can Chicken.