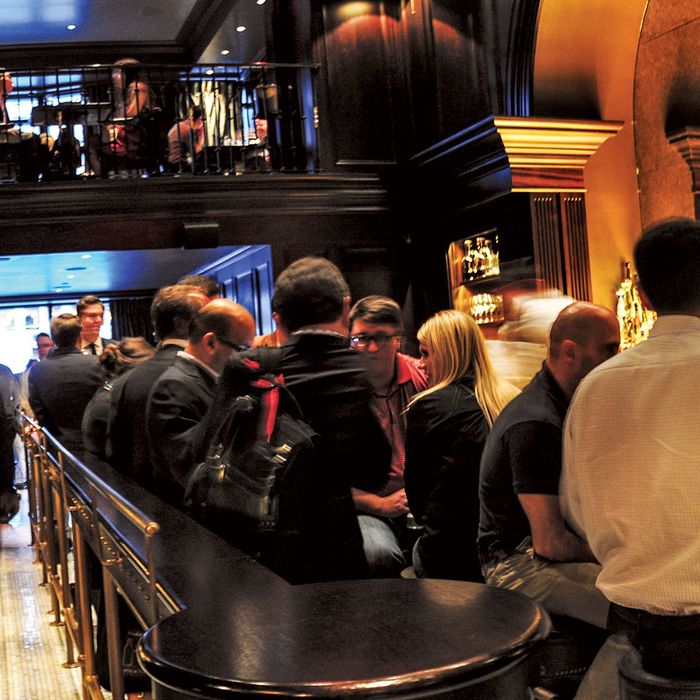 Photo: Sarah Silberg/New York Magazine
There are plenty of reasons to dislike Daniel Humm and Will Guidara's loud, gilded, insanely crowded NoMad Bar, which opened in June around the corner from their popular NoMad Hotel operation on Broadway and 28th Street. There's the vaulted, mostly windowless ­double-height space, which can feel faintly claustrophobic even if you're sitting at one of the balcony tables peering down on the crowd of assorted nabobs and hedge-fund hustlers rioting around the bar. There's the sepulchral lighting, which makes the room look, even on the brightest of summer evenings, like a basement nightclub in Vegas or the inside of a pharaoh's tomb. There's the long wait for a table, which was quoted as an hour and a half "at least" to one of my beleaguered colleagues, before he was recognized by the crack staff and whisked to one of the tables reserved, conspicuously, for VIPs.
The things to dislike about NoMad Bar, in other words, are the things to dislike about high-profile, oversubscribed nightclub bars everywhere, although in this particular case, these issues tend to dissipate a little (as with many of the best bars) once you've enjoyed your first $16 cocktail. The drink I'm thinking of is a pale, gin-based concoction called Needle and Thread, served straight up, in a frosty coupe, with sweet vermouth touched by a whisper of absinthe and a drop of orange bitters. It had more sweetness and depth than your average martini, and was prettier to look at, too, and after I finished it, I ordered another one to go with the trio of brightly colored tartares that were laid out, like a piece of food art, on a smooth block of wood. One of these was made with the usual tuna and the other with the usual beef, but the best was a vibrant tartare composed of shredded carrots, mustard, and pumpkin seeds, which we spread over thin fans of crisped rye bread.
The NoMad Bar has its own kitchen, separate from the mother-ship restaurant around the corner, and Humm's executive chef, James Kent, uses the space to conduct all sorts of elevated experiments in the relentlessly trendy realm of casual pub food. Instead of mustard and the usual dank pickle, the $16 hot dog at this posh drinking establishment is wrapped in bacon and topped with celery relish and truffled aïoli. The tenders-style fried chicken looked a bit too much like "glorified airport food" to the tasters at my table, although you won't find anything at your local landing strip like the addictive little wheels of duck sausage (with cherries and pickled ramps), or the yakitori-style skewers of fat, tender skirt steak (garnished with chopped parsley over wedges of garlic toast), or the superb dry-aged Cheddar burger that's leavened with sinful amounts of suet and bone marrow.
Humm's vaunted $36 chicken potpie is tricked up in a similar aggressively gourmet way (with morels and seared foie gras), although if you're going to throw that kind of cash around, I might call for another burger instead and complement it with a plume of the slim, crispy house fries, which are served in copper julep cups. The desserts are unremarkable (if you get one, make it the chocolate "candy bar"), so save your calories, provided you have any left, for the voluminous and inventive bar menu, which has six sections, not including wine and the usual multitude of craft beers. I have dim memories of a Philadelphia Fish House Punch, impeccably executed with apple brandy and two kinds of rum, although I don't think we had the nerve, in the end, to call for one of the Cocktail Explosions, which cost $110 at this maddeningly posh boom-time bar and are hoisted to the table in giant punch goblets the size of watermelons.
Bar Primi, which occupies the old Peels space on the Bowery, is Andrew Carmellini's version of Daniel Humm's bar-restaurant with a couple of wrinkles thrown in. Like the NoMad Bar, there are two dining levels here, although this one has an actual second story rather than just a mezzanine, which makes it marginally easier to spread out and enjoy a meal with your drink. Instead of upscale burgers and chicken potpies, the bar foods of choice are antipasti and pastas, which look simple enough on the menu but are prepared by Carmellini and his chief pasta lieutenant, Sal Lamboglia, in various inviting ways. There are two bars on the premises at Bar Primi instead of one; the cocktails aren't nearly as elaborate as those uptown (although, at $12 a pop, they're much more affordable); and if you happen to find yourself trapped downstairs on a crowded evening, like at NoMad Bar, you may want to cover your ears and call loudly for the check.
Carmellini's restaurants can take some time to settle into a rhythm, but if you choose wisely and beg for a table upstairs, you can make a nice meal out of the small plates (seafood antipasto, bruschetta with ricotta and figs), the antipasti (cheese-stuffed meatballs "in sugo"), and the simpler pastas. My finicky pasta tasters considered some of the more elaborate "seasonal" pasta creations to be overthought (the gummy orecchiette, a spinach cavatelli smothered in a little too much veal and Piave cheese), so stick to the more classic compositions (spaghetti pomodoro, a simple linguini tossed with bread crumbs and crisped cloves of garlic), and if it's Thursday, and you're in the market for a sturdy meal, call for the blue-plate lamb-chop special, which you can complement with soft, deliciously boozy slabs of tiramisu for dessert.

NoMad Bar
10 W. 28th St., nr. Broadway, New York, NY; 347-472-5660; www.thenomadhotel.com
Hours: Sunday 5:30 to 11 p.m., Monday and Tuesday to midnight, Wednesday to Saturday till 1 a.m.
Prices: $6 to $36.
Ideal Meal: Scotch olives, duck sausage, burger and/or hot dog with fries, drinks.
Note: The Reserve Cocktails section of the bar menu features all sorts of forbidden goodies, including the $198 Vieux Carré cocktail, made with 50-year-old cognac.
Scratchpad: One star for the elevated bar food and another for the exceptional drinks.

Bar Primi
325 Bowery, at 2nd St., 212-220-9100, barprimi.com
Hours: Lunch 11:30 a.m. to 3 p.m.; brunch 10 a.m. to 3 p.m.; dinner Sunday to Wednesday 5:30 to 11 p.m.; Thursday to Saturday till midnight.
Prices: Appetizers, $7 to $18; pastas, $14 to $19; nightly specials, $19 to $29.
Ideal Meal: Bruschetta, seafood antipasti, linguini with garlic, meatballs, tiramisu.
Note: Carmellini offers a single signature house sandwich, constructed with roast beef and Italian peppers. Here's hoping he comes up with a couple more.
Scratchpad: One star for dinner (provided you sit upstairs) and another for the tiramisu.
Related:
This 8-Drink Megacocktail Takes 2 Bartenders 7 Minutes to Make
The Nomad Bar Serves the World's Most Luxurious Chicken Pot Pie