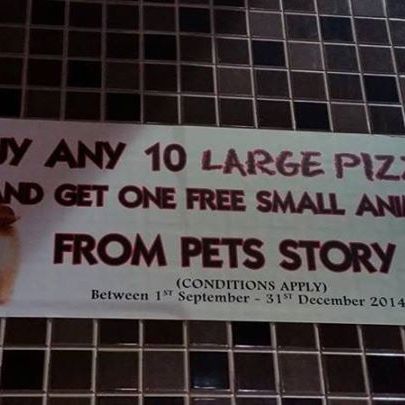 That little guy isn't so sure about this deal.
Photo: Pizza Hut needs to make amends for live animal promotion/Facebook
A Melbourne, Australia Pizza Hut restaurant says it made a huge mistake by putting up a sign intended to drum up business for a neighboring pet store. The chain restaurant actually advertised a pets-for-pizza giveaway very similar to your coffee shop loyalty card, apparently, with a sign reading "Buy any 10 pizzas and get one free small animal." It turns out, however, one small and crucial word was left off, and the sign should have read, "Buy any 10 pizzas and get one free small animal kit."
The sign was apparently up for two weeks, enough time for several well-intentioned people to come forward and offer to instruct management on the finer point of animal rights, and of course demand that the chain donate $5,000 to the local SPCA.
Pizza Hut Australia has since apologized for the "thoughtless promotion ever occurring," and Pets Story, the local shop, is still embarrassed. "There is no way we would give away free animals. We only have four rabbits in our whole entire store," a spokesperson says.