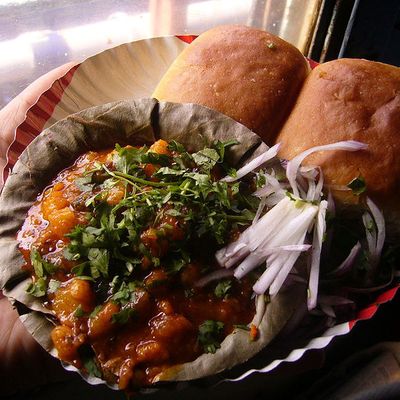 Pav bhaji served on a train in India. We should pav bhajis on Metro-North.
Photo: Dforest/Wikimedia Commons
New Yorkers are finer than ever with street-side doner kebabs, loaded cemitas, and the ever-popular bánh mì, so it's probably also time the city embraces one of the best and most satisfying snacks in the universe: pav bhaji, pronounced pow bah-jee, an almost-famous, sort of DIY Indian sandwich with a complicated backstory.

Here's what a pav bhaji is, most often: two almost-sweet buns of vague Portuguese influence that bear an uncanny resemblance to Martin's potato rolls. Usually the bread has been toasted slightly in salty butter. The filling is a mix of vegetables like potatoes and onions that have been cooked down with tomatoes and spices, and more often than not, these components are served separately, so the particulars of stuffing are left up to the eater.
The snack's origins trace back to Mumbai's textile mill workers in the 19th century who needed something filling, served quickly. Roughly 164 years later, pav bhajis still get the job done, and fast. Granted, this concept comes up short on nutritional value, but as an assembled work of art, a pav bhaji is basically the most delicious mashed potato sandwich on bread. Who could argue with that? For whatever reason, though, the idea has yet to catch on in New York.
That isn't to say people haven't tried: Around five years ago, the pioneering Aamchi Pao, helmed by Devi pastry chef Surbhi Sahni, strategically sought to serve pavs to students and West Village bargoers roaming the street at 4 a.m. looking for drunk food. Unfortunately, the shop folded in less than a year.
There's hope, though. Malai Marke in the East Village serves a well-spiced version, and the new Murray Hill outpost of Indian chain Kailash Parbat also has them on the menu. An Indian street food stand at Smorgasburg called Potpuri sells a traditional pav bhaji alongside its more ambitious "Slumdog," a fried potato patty laden with chutneys on a hot-dog bun.
But the pav bhaji deserves greater circulation, even in our current carb-avoiding and gluten-averse dining era. A rebranding of sorts was recently attempted in Brooklyn Heights, where Asya Indian Restaurant introduced a spinoff concept called "the Sloppy Pav," which is "part Sloppy Joe, and part Pav Bhaji." What makes these pavs sloppy? In addition to veggies, these sandwiches include fillings like tandoori chicken and lamb meatball with fenugreek and pear chutney.
We really shouldn't have to slap American homestyle names on the dish to help it gain traction, but sure, it's fine if that works. Baluchi's Fresh, a fast-casual lunch place strategically positioning itself to be the Chipotle of Indian food, opens tomorrow at 37 West 43rd Street, with kale in its samosas and made-to-order chaat. There, you'll be able to order the "Indian Sloppy Joe" as a special. Father and son owners Rakesh and Rohan Aggarwal, who also opened Devi ten years ago, are hoping that the $9.95 lunchtime guest star, which consists of two "sliders," stuffed with an assemblage of mashed vegetables, cilantro, raw onion, and a bit of lemon, along with sides, will catch on. It really should.
In an age of next-generation bánh mì and crossbreeds like the ramen burger, it's time for the pav bhaji — literally the prototype for all subsequent mash-ups — to get its due.