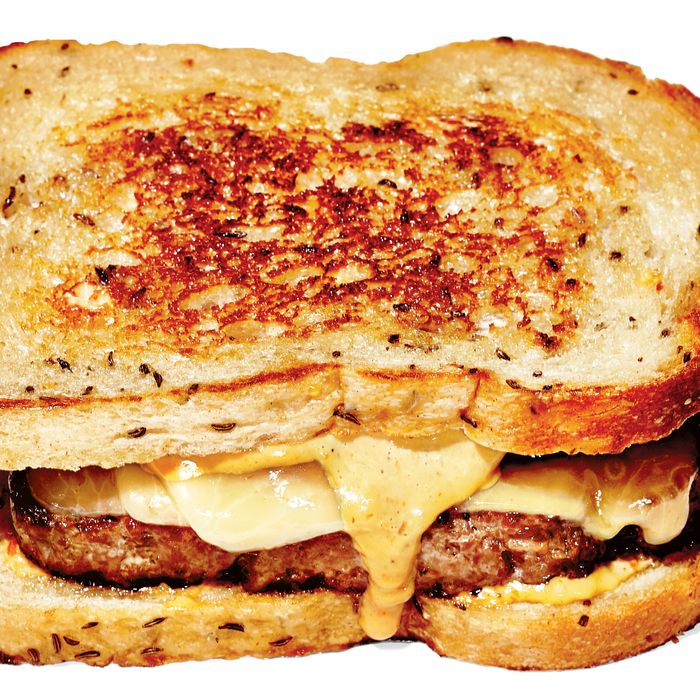 Court St. Grocers' patty melt.
Photo: Bobby Doherty/New York Magazine
The curse (or maybe the charm) of the patty melt is that many New Yorkers don't even know one when they see one. A patty melt is not quite a burger, which is why burger nerds stomp their feet and refuse to categorize it as such, denouncing it as an impostor, a sort of aspirational grilled cheese. Nor will certain sandwich aficionados admit it's a sandwich, owing to its burgerlike qualities. When Katie Lee, known at the time as Katie Lee Joel, won the NYC Wine and Food Festival's Burger Bash a while back, it was with what was indisputably an American-cheesed, Friendly's-style variation of the patty melt. The funny thing was that not a lot of locals in the crowd knew what to make of it. Food bloggers, in their recaps of the event, identified it as a strange and exotic creature, a grilled cheese sandwich housing a stealth hamburger patty. So what exactly is a patty melt?
In its original form, it's simply a beef patty, Swiss cheese, and caramelized onions on griddle-toasted rye bread, and that's it. (Plopping a cheese-and-onion-smothered patty on dry toast doesn't count.) The sandwich, it's said, was invented in California sometime during the 1940s or '50s at one of William "Tiny" Naylor's coffee shops by Tiny himself, who at six-foot-four and 320 pounds was anything but. The beauty of the patty melt is that, when done right, no condiments are necessary, as the defining flavor-enhancing characteristic derives from lavishly buttering the outside of the bread and cooking the sandwich until it becomes one gooey, greasy, meaty, crisp-but-tender synergistic package. No other burger style better exemplifies the sandwich ideal of the whole being greater than the sum of its parts. The good news is that in New York, a patty-melt trendlet is afoot. Here, a few variations, from humble to haute, listed in order of preference and rated on a scale from one to five.
Steak 'n Shake's Frisco Melt
1695 Broadway, nr. 53rd St.; 212-247-6584; $5.49 (including fries)
The Manhattan branch of the midwestern burger chain is a claustrophobe's worst nightmare, seemingly designed by someone who graduated at the bottom of his feng shui class. But it's also home to the city's best patty melt, a streamlined model made with two griddle-smashed patties, American and Swiss cheeses, and a Thousand Island-like dressing.Never mind the lack of onions, this thing could ruin you for burgers on buns forever. 5/5
Parm
248 Mulberry St., nr. Prince St.; 212-993-7189; $25 (with smashed potatoes)
Parm's supercolossal Tuesday-night special reminds us that a patty melt is not a patty melt without a good patty. The one in question consists of eight ounces of outrageously rich LaFrieda beef that's been dry-aged for 60 days. Its texture is loose and crumbly, and it has an intense, beefy flavor. True, it comes with an array of toppings (tomato, provolone, roasted mushrooms) that might have given Tiny Naylor a conniption, but it works like a dream. 4.5/5
Shopsin's
120 Essex St., nr. Rivington St.; no phone; $17
It's double-American-cheesed on better-than-usual rye, almost taller than it is wide, held together with the frilliest toothpicks you've ever seen, and gone before you know it. Is there a classic sandwich or burger style that Kenny Shopsin cannot improve upon and make his own? Probably not. 4.5/5
Court St. Grocers
600 11th Ave., at 45th St.; 212-582-7946; and 485 Court St., nr. Nelson St., Carroll Gardens; 718-722-7229; $12
The beef-shank-pork-and-corned-beef pâtélike patty (topped with sautéed onions, Cheddar, and comeback sauce) is a clever tweak. And the panini-press execution, while not traditional, is flawless. 4/5
The Butterfly
225 W. Broadway, nr. White St.; 646-692-4943; $18 (including fries)
Who knew that Michael White was such a proficient patty-melt-maker? Every detail is spot-on: The fairly juicy dry-aged beef is well seared, the onions nicely caramelized, the cheese (American and Gruyère) perfectly melted, and the caraway rye griddled to a tee. Even the dill pickle makes an impression. 4/5
Telepan
72 W. 69th St., nr. Columbus Ave.; 212-580-4300; $22 à la carte; brunch only
Everything, including some Ruffles-like housemade chips, is stacked vertically on the plate in a kind of Stonehengian display, as if an '80s version of Bill Telepan's old boss, Alfred Portale, were making a guest appearance in the kitchen. But a flavorful beef patty seasoned with paprika, a surprisingly melty Cheddar, and slow-cooked onions make for the finest patty-melt platter on the Upper West Side. 4/5
Montmartre's Burger
158 Eighth Ave., nr. 18th St.; 646-596-8838; $19 (including pommes frites)
Yes, chef Michael Toscano has gone and pulled a Katie Lee on us by calling it a burger. But this super-duper dry-aged-beef blend topped with béarnaise "cheese" and creamed spinach on Balthazar pain au levain is undoubtedly a patty melt—albeit a wildly interpretive one. Its only flaw: bread that's been cooked too dry and crunchy so that the whole package lacks cohesion. 3.5/5
St. Anselm
355 Metropolitan Ave., nr. Havemeyer St., Williamsburg; 718-384-5054; $12; brunch only
Next to Parm's, this grilled-not-griddled artery-clogger is the brawniest patty melt in town, with Swiss Emmenthaler and caramelized onions as sweet and deeply flavored as a crock of French onion soup. Throw on an optional fried egg if you dare. 3.5/5
Empire Diner
210 Tenth Ave., at 22nd St.; 212-596-7523; $15
Amanda Freitag's terrific rendition—LaFrieda patty, Swiss, caramelized onions on Tom Cat rye—is as classic as the 1946 Fodero dining car in which it's griddled. 3.5/5
Burger Heaven
Multiple locations; $16 (including fries)
A relentlessly juicy half-inch patty and two expertly melted slices of American cheese, positioned, in the Friendly's "Set-up" burger style, on the top and bottom of the meat, render the griddled rye almost as soft as a Martin's potato roll. Which is to say that it's a good one for those with sensitive patty-melt palates. Free sautéed onions by request. 3.5/5
Five Guys' Off-the-Menu Patty Melt
Multiple locations; $6.28
Ask for a patty melt and they'll look at you like you've escaped from a home, but request a grilled cheese (which comes on a squishy hamburger bun) with an add-on beef patty or two ($1.99 each) and grilled onions (free), and they'll spring into action. The great grease-bomb result is more like a cheeseburger that's been trussed like a chicken and tossed into a deep-fryer, but it's the perfect gateway patty melt for anyone who recoils at the idea of eating a burger on bread. 3/5
Black Iron Burger
540 E. 5th St., nr. Ave. B; 212-677-6067; $8
This underrated East Village burger bar griddles a nice, no-frills patty melt with a choice of Swiss or Cheddar. It's well constructed and has good balance, but the six-ounce patty is a little too small for the size of the rye. 3/5
Wise Men
355 Bowery, nr. 4th St.; 646-590-4244; $14
A solid patty melt (Cheddar, onions, pickles, thinnish beef patty on rye) where you wouldn't expect it—a cocktail bar that caters to a fashion-forward crowd, including a gentleman in a powder-blue suit and blue suede shoes one recent night. Wash it down with a mezcal Negroni. 3/5
Miss Lily's 7A Cafe's Jamaican Patty Melt
109 Ave. A, at 7th St.; 212-812-1482; $14 (including fries)
Aside from the miniature Jamaican flags attached to the toothpicks holding it together, we're not sure what makes this beef patty with Gruyère and caramelized onions on marbled rye a "Jamaican" patty melt. Maybe it's the spicy, mayolike "burger sauce," or the jerk seasoning on the too-pale fries. In any case, it's not bad, if only the beef were more flavorful. 2.5/5
Schiller's Liquor Bar's Brisket Patty Melt
131 Rivington St., at Norfolk St.; $17 (including fries)
Sliced brisket, caramelized onions, Swiss cheese, and "deli" mustard on rye. A pretty good sandwich it is; a patty melt it is not. Absent an actual patty, how could it be? Let's call it what it is: a Reuben with an identity crisis. 2/5