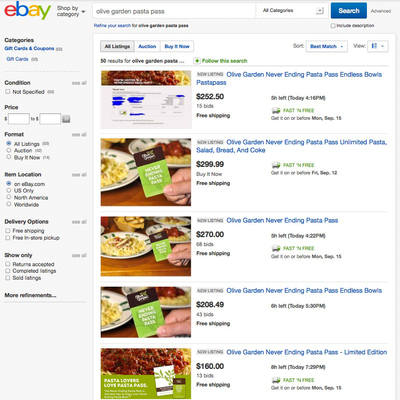 Yesterday, 1,000 lucky souls secured a $100 Olive Garden Never Ending Pasta Pass. These fortunate few will soon be able to gorge on chain-restaurant noodles as much as they like for practically two entire months … and you are almost certainly not one of them. Instead, you must go on living with the knowledge that you'll have to pay the frankly insulting sum of nine dollars and ninety-nine cents every time you crave "never-ending" piles of fettuccine alfredo or penne with "five cheese marinara." It would probably take, like, three visits just to figure out what all five cheese are. Clearly, this is no way to live. But what if I told you that you don't have to face this kind of wretched future? What if I told you there is another way, a glimmer of hope for people who know that no price is too steep to pay for something as special as never-ending pasta?
It's true. The internet has you covered. As of this morning, 45 separate entries showed up in eBay for users savvy enough to look there for secondary-market passes. Why someone would part with one of these passes for any price at all isn't your concern right now. All you need to know is that this is the time to strike. Currently, prices range from $110 to around $500. And for people who can't handle the pressure of an online auction scenario — understandable — "Buy It Now" prices hover around $250 per pass.
For those who would rather support their local pasta-pass economy, Craigslist is another option. A few pass listings have popped up across the country, and one lucky bastard in Milwaukee even claims to have two of them. What's the point of two unlimited passes? you inevitably ask. Is there even such a thing as double-never-ending? For just $220 (each), you can make those passes yours and find out for yourself. Who's the lucky bastard now?! you'll shout triumphantly between never-ending bites of spaghetti with spicy three-meat sauce.
So, ask yourself this: How much are you willing to spend to make your life objectively better? Is a couple hundred bucks too much to pay to feel like a god every time you walk into your local Olive Garden between the dates of September 22 and November 9? It is not. So go, bid, become the person you were always meant to be.
Earlier: The Instant Success of Olive Garden's 'All You Can Eat' Pasta Cards Will Shatter Your Faith in Humanity
[eBay]