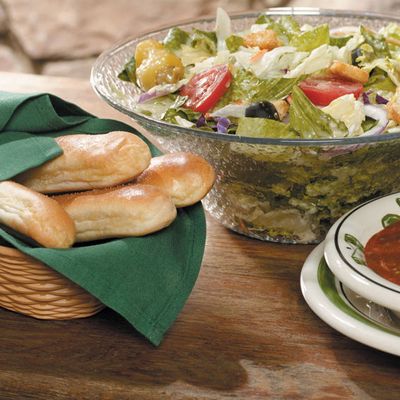 Executed much more elevatedly.
Photo: Courtesy of Olive Garden
Last week, we learned about the activist investors from Starboard Value who seek to take away our unlimited breadsticks at Darden Restaurant Group's Olive Garden, owing to a notion that the in-house generosity is just food waste by another name. Darden, it may surprise no one, is now trying to set the record straight with a 24-page slideshow that addresses Starboard Value's complaints in the most withering of business-speak. Basically, it wants the world to know its breadsticks should remain unlimited.
Because facts, it says, are facts — 700 million free breadsticks a year actually "convey Italian generosity" and the bottomless salad enjoys the "highest loyalty rating of any menu item." The words "broadly appealing" are the best way to describe the sprawling 96-item menu, it said, not "far too complex."
We'll spare the details, but the presentation continues by walking readers through the "Renaissance Plan" under way right this second to "emphasize 'Delivering Flawless Guest Experiences.'" Future plans include tabletop tablets, too, so no one can say the chain isn't forward-thinking. "Olive Garden's salad and breadsticks have been an icon of brand equity since 1982," Darden said. In the meantime, Starboard reiterated that they do not want to do away with the freebie breadsticks, only for servers to "exercise more control in how they're distributed."
Related: Activist Olive Garden Investors Want to Kill Unlimited Breadsticks
[Vox, AP]