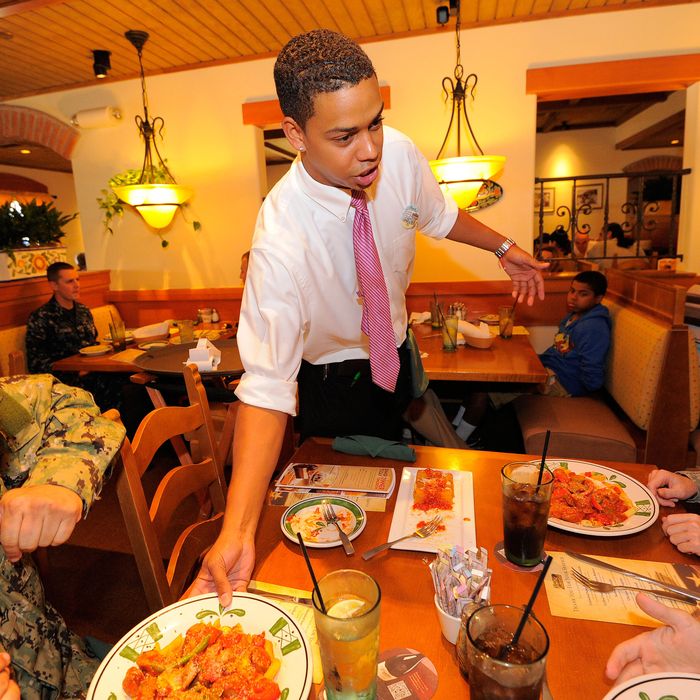 Scott A. Miller/AP/Corbis
Photo: He'd boil the pasta in salt water, too.
With morale around Olive Garden so soured that the guys at the top are telling each other to Google "how to cook pasta" and nitpicking the so-called "Cadillac" of takeout bags, thousands of the fast-casual chain's workers say it's time to petition Darden executives and shareholders to hear their concerns, which they say are more serious than breadstick waste. Workers mostly want to make clear they "aren't assets to be sold off."
Steve Gazzo, the petition's creator and six-year veteran of the chain, says CEO Clarence Otis's departure created a "leadership vacuum" that could cause layoffs at a time when it's already "harder and harder for employees to make ends meet." The chain's employees take issue with a change in tipping and the corporate break policies. The petition also calls the activist investor group Starboard a "predatory hedge fund," and says if this gets met with silence, they'll make themselves impossible to ignore by using "direct action" before the big October 10 shareholders' meeting where Starboard will finally get its chance to wrest away control of the company.
Related: Activist Olive Garden Investors Want to Kill Unlimited Breadsticks
Related: Corporate Executives Defend Olive Garden's Unlimited Breadsticks
[Coworker.org Petition, BuzzFeed]