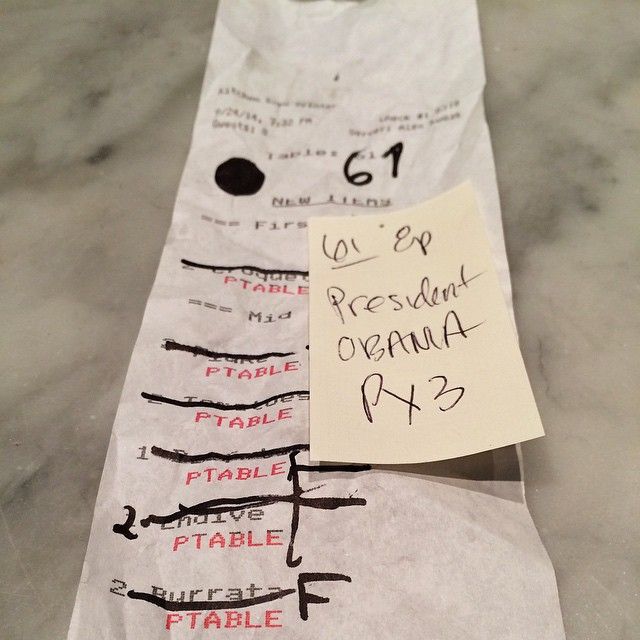 Get ready for endive sales to skyrocket.
Photo: Estela/Instagram
We all know by now that President Obama has great taste in food, but it's nonetheless surprising that he and the First Lady chose to have dinner last night at the tiny and acclaimed restaurant Estela on East Houston Street. It's unclear if partner Thomas Carter got to steer the Obamas toward any particular glass of biodynamic wine, but after yesterday's "latte salute" debacle, the president was likely looking for a solid drink. Food-wise, it seems as though Ignacio Mattos served the couple fluke carpaccio, endive and walnut salad, cod croquettes, and some burrata. In other words, good choices. Here are some photos from the scene, including one from the restaurant itself with a run-down of what the couple ate.

President Obama is dining beside our apartment. Streets blocked off around Mott & Mulberry on Houston. @estelanyc pic.twitter.com/SONu4HXQap— GuyHorrocks (@GuyHorrocks) September 25, 2014

You guys Obama is having dinner on Lafayette pic.twitter.com/xu0zpFqy0Q— Laionela (@_MetallicSkull_) September 24, 2014

Obama in soho and everyone going crazy pic.twitter.com/dMrVGyXT5B— ALEX (@AlejandriaNicol) September 25, 2014

Related: Obama's 'Latte' Salute Managed to Offend a Lot of People Who Probably Disliked Him Already