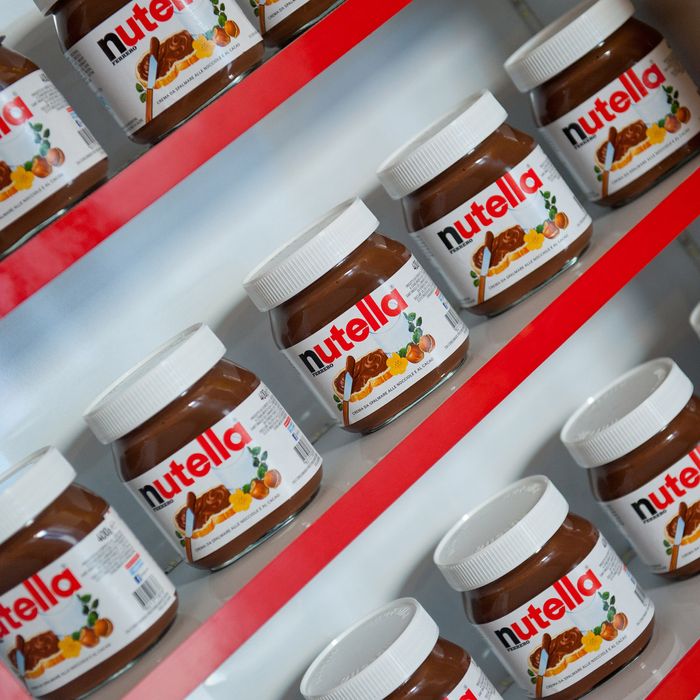 The shop currently houses about 150 kilos of of Italian Nutella.
Photo: Liz Clayman
When the world learned last month that an independently owned Nutella shop called Nutelleria would soon open in Brooklyn, the news raised a number of unique questions: Who actually owns this place, anyway? How are LA and Miami locations already in the works? Why does Nutelleria's sloppily designed website feature a fully working game of "Snake"? And, most importantly, how do the owners plan to avoid getting sued by the company that makes Nutella? It was all very strange, so Grub Street reached out for answers. But now, after seeing the space and meeting the apparent owners, we have even more questions.
Opening delays are a given in New York, where owners are often at the mercy of contractors and the endless red tape of city bureaucracy. So it wasn't surprising that Nutelleria missed its original target opening of September 6, even when it was chalked up to a family emergency. Yet one of the apparent partners that Grub talked to about the opening wouldn't give any details beyond that. In fact, he wouldn't even reveal his last name. "We'll keep to first names for now," he says, asking only to be identified as Andre, before adding, cryptically, "We'd like to keep this private while we resolve all the matters."
Which matters, exactly? Do they have anything to do with the official Nutella Bars that Eataly operates in Manhattan and Chicago? Andre wouldn't say when I met with him last Friday, just a day before the shop's rescheduled grand opening on September 13. Instead, I asked about his plans for the menu. Again, he doesn't seem interested in revealing too much: "That's exactly what I can't tell you."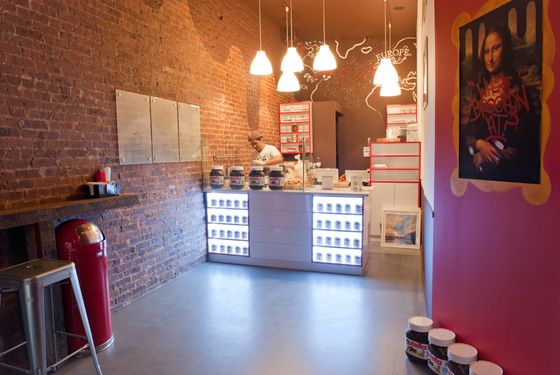 This is it.Photo: Liz Clayman
What he does say is that he's a native of Moscow who grew up in Brooklyn, and that he wants to open the shop because he has a deep, abiding love for the Italian hazelnut spread. The small Fifth Avenue shop itself is quite handsome — clean lines, exposed brick, and five-kilo Nutella jars lining the shelves. In fact, the shop's Nutella supply comes straight from Italy, and it's richer and thicker than the type traditionally sold in the U.S. (A taste-test at the shop confirmed this.) When asked about the cost and difficulty of exclusively importing his main ingredient from Italy, Andre again prefers to remain enigmatic. "I can't disclose further than that," he says. "That's the business we're in. We're not associated with USA Ferraro, let's put it that way," he adds, referring to the company that makes Nutella.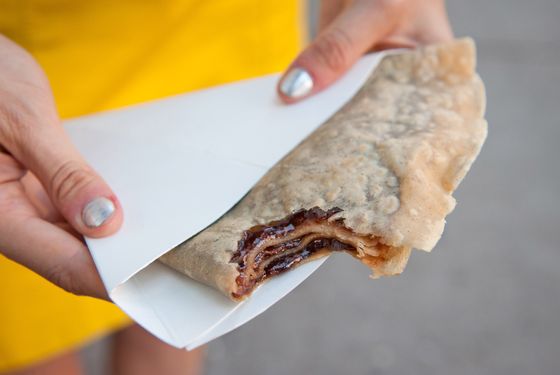 A crêpe from the shop — the only menu item the owners will reveal.Photo: Liz Clayman
It seemed he was actually on track to open this past Saturday. As we talked at the store, he was even unloading Champagne for the occasion, at that point less than 24 hours away. But then, the next morning, the shop tweeted this message:
When I followed up to ask what happened, a rep simply told me there was an unforeseen delay and the shop would be closed for another few weeks. So here we are, left wondering whether Nutelleria will ever actually open. The delays aren't confusing, but the vague, inconsistent reasons, given by partners who wish to remain more or less anonymous, are. Is there some secret, nefarious underbelly of the Nutella trade? Or is this all just part of some master marketing plan? When I asked Andre why he was being so coy about everything, he simply replied, "I've got to keep you intrigued, right?"
Earlier: An All-Nutella Restaurant Will Open in Park Slope
Related: Teenagers Review Eataly's Brand-New Nutella Bar: 'Incredible!'