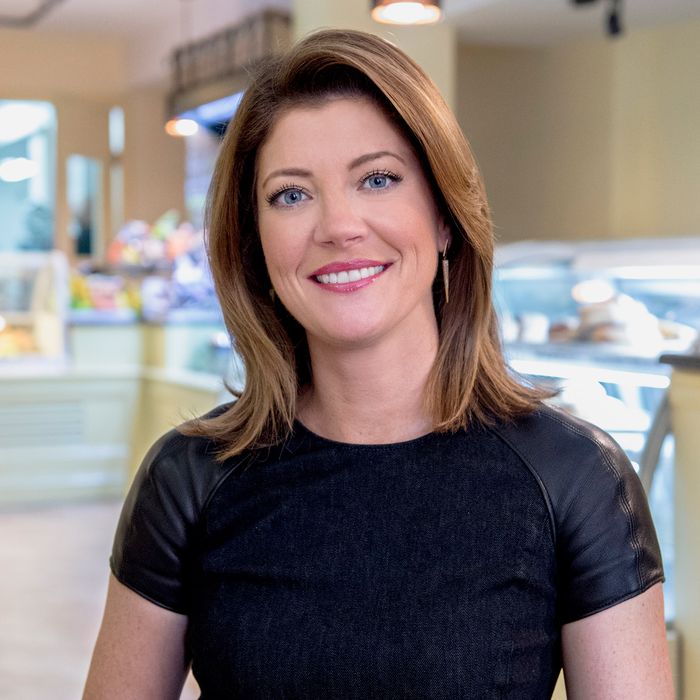 "More bacon for me!"
Photo: John Paul Filo
The day starts early for Norah O'Donnell: As the co-host of CBS This Morning, she's up at 3:30 a.m. to get ready in time for the show. Yet O'Donnell, who's married to restaurateur Geoff Tracy, still finds time to make food a top priority, especially bacon. "My family and I are kind of obsessed with bacon," she says. "We even have a license plate that says 'bacon' on it. It might be getting out of hand." Of course, this week she also made time to check out an Italian restaurant in her neighborhood and fly to Aspen for a weekend trip that included a dinner catered by David Chang — read it all in this week's Grub Street Diet.
Friday, September 19
I woke up, as I do every day, around 3:30 a.m. to get ready. I typically come in with wet hair and I'll eat my breakfast as I'm getting ready for the show. While I'm sitting in the makeup chair, I always sip on a hot Venti skim latte from Starbucks.
My usual breakfast selection is plain Fage yogurt that I sprinkle with blueberries and a mix of flax and chia seeds. For the most part, I only drink coffee in the morning before the show. When I'm on the set, I switch to Irish Breakfast tea, which gets filled and refilled throughout the show.
I get a short break usually right after the show, so I'll go up to my office and snack on apples and peanut butter, or lentil soup with a side of bread or crackers. On Fridays, though, I reward myself by having my favorite breakfast: a bacon-and-scrambled-egg sandwich on an English muffin.
After the show on Friday, I headed straight home to meet my husband, as we were flying to Colorado for a weekend conference in Aspen. On the plane to Aspen, I had a salad with roast beef and blue cheese — surprisingly good for airplane food. I usually bring my own snacks on trips with me: Kind bars, Vega bars, whatever I have around the house. I think this is a mother's habit — always having a snack on hand! I had three kids in two years, so I'm prepared for pretty much anything.
We got into Aspen late and went to a dinner with other conference attendees. The dinner was incredible: It had been prepared by David Chang, and I love everything he does. The meal was some dish with fried chicken and beef tenderloin in one.
Saturday, September 20
I rarely get the chance to sleep in — even on the weekends, I wake up early with my kids — so I took the opportunity to get more sleep than usual. My husband, Geoff, came to wake me with coffee in bed, with skim milk: It reminded me why I married him. For breakfast, I had steel-cut oatmeal with some dried fruit and a little bit of brown sugar.
After attending a few panel discussions in the morning, Geoff and I spent the afternoon golfing. We had lunch on the golf course, which was a typical barbecue buffet, with burgers, ribs, chicken, and a bunch of side dishes and salad. I had an heirloom tomato and burrata salad.

Saturday evening, we had a big dinner with the conference attendees. It was another buffet with chicken, salmon, mashed potatoes, and corn-bread muffins. After dinner, I downed a bag of popcorn.
Sunday, September 21
Sunday morning, we flew back from Aspen to the city. On the flight, I had a bagel with cream cheese and some fresh fruit — standard breakfast — and some hot tea.
We were pretty exhausted from the weekend by the time we got home, so on Sunday night, we ordered in sushi from Amber near our apartment. Although my husband and I both enjoy cooking, we could only muster the energy to go to Seamless.
While my kids are pretty adventurous eaters, they haven't quite developed a taste for sushi, so we whipped them up some simple pasta for their dinner and ate together as a family.
Monday, September 22
Monday morning and back to the daily grind. I had my usual Venti skim latte in the makeup room, followed by my Fage yogurt with blueberries in my office. I had a workout scheduled for later that day, so wanted to make sure I would be fueled up. After the show, I had some fresh fruit: berries, apples with peanut butter, and grapes.
I had an interview scheduled with actress Geena Davis in the afternoon, so I spent some time in my office after the show preparing, and I had my lunch. Lunch for me is more like late breakfast for the normal person — I eat around 10:30 or 11 a.m.
The CBS News offices are on 57th Street at Eleventh Avenue, which is sort of a no-man's-land for lunch options. As a result, I order my lunch in most days. My absolute favorite is the lentil soup from Clinton Bakery Café, a tiny little place around the corner from the office. I eat it almost every day, with a side of bread or crackers. It's got carrots and other vegetables in it, too, so it's very filling.
My husband and I moved to New York with our kids about three years ago, so we're still getting to know the city. For dinner on Monday night, we decided to go to Osteria Cotta at 84th and Columbus. I ordered some French rosé (rosé is never out of season in my world), and Geoff ordered a beer. I had the a orecchiette with sweet sausage, broccoli rabe, and fresh basil pesto. My husband ordered the grilled hanger steak with potato confit, which of course I had to sample.
Tuesday, September 23
On Tuesday, I had my usual breakfast — Venti skim latte, yogurt with fresh blueberries, and Irish Breakfast tea on set. We knew that President Obama would be giving a speech on the Syrian air strikes at 10 a.m, so Charlie [Rose] and I stayed on the set to anchor a special report for CBS News. When I'm not able to go back to my office in between hits, I sometimes dip into our green room, where we have a breakfast spread of fruit and pastries for our guests (this is also Gayle [King]'s go-to breakfast spot). I grabbed a small plate of fresh fruit to tide me over until the special report finished around 10:30 a.m.
I had a meeting scheduled at 11 a.m. with Scott Pelley and some CBS News executives to discuss our coverage plans for the upcoming midterm elections, so I took the half-hour break between the special report and the meeting to eat some breakfast (or was it lunch?). Even though I usually only have bacon-and-egg sandwiches on Fridays, it was a busy morning and I was craving some bacon, so I went for it. After the meeting, I went home for a few hours to write and edit some scripts.
Around 2 p.m., I left my apartment to head back to the office for a few hours. On the way, I stopped by Clinton Bakery Café for a café au lait (I needed a pick-me-up) and some snacks. I'm not much of a sweets person, but I love baklava. I sampled the classic baklava, the almond baklava, the pistachio baklava, and some mini-macarons — they were all delicious. I also bought a cold lentil salad with chopped red peppers and cucumber to take to the office with me.
I stayed at the CBS Broadcast Center working on my scripts until about 6 p.m., and then I went to meet my husband for dinner at Milos in midtown — a favorite of ours. We started with the hummus, naturally. One of my favorite things about Milos is their excellent selection of fresh fish and seafood. I ordered the Loup de Mer with a traditional Greek salad of tomatoes, feta, and olive oil — simple and delicious.