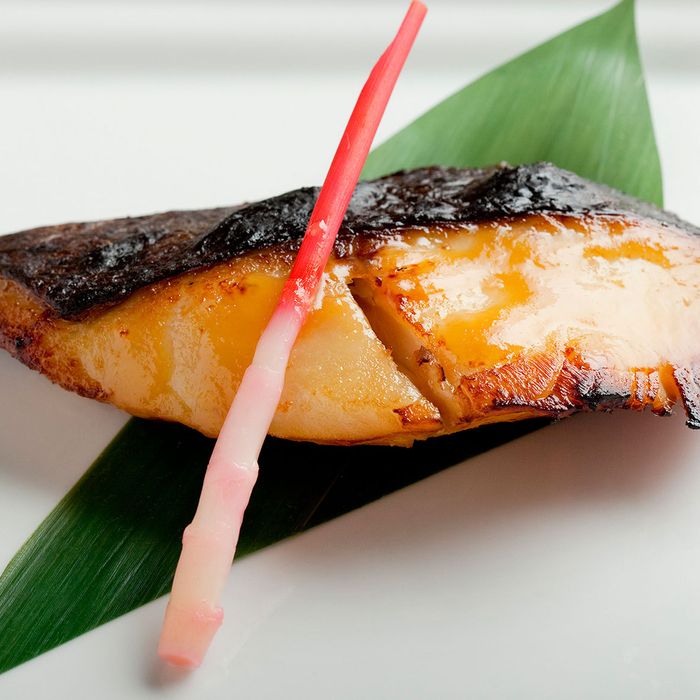 Still miso-glazed after all these years.
Photo: Courtesy of Nobu
This year, Nobu's flagship location in Tribeca celebrates its 20th anniversary. It's hard to believe, but there was once a time when every metropolis in the world didn't have a Nobu outpost. It may be equally hard to believe there was also a time when the restaurant's signature black cod with miso hadn't become an international phenomenon. Yet there were signs two decades ago, when the very first Nobu opened at 105 Hudson Street: The soy-slicked fish was a must-order, called out even in the restaurant's earliest reviews. A kind of fame ensued, and today, black cod with miso is essentially shorthand for the Nobu empire itself. But in fact, as chef Nobu Matsuhisa and his famous partners expanded the restaurant portfolio from one to two to a dozen, and now, some thirty-plus Nobus, it happened that miso black cod wasn't simply delicious, it also turned out to be the ideal dish to help launch a global brand.
The idea is simple: Filets of fish are marinated for three days in mirin, sake, white miso, and sugar. They are broiled to order and are given a spare presentation on a '90s-style white square plate on top of a bright-green banana leaf. The plate is decorated with miso dots and an elegant spear of pink-and-white hajikami ginger. In fact, the Tribeca flagship didn't actually introduce the dish; Chef Matsuhisa himself had tinkered with the idea at Matsuhisa in Beverly Hills, and the technique is actually a variation on a centuries-old tradition of curing fish in the dregs left over from sake production. "In traditional Japan, fresh fish would marinate in [sake lees and] miso, to keep it longer," Matsuhisa says. "That's where the idea came from." But even though the dish got its start in Southern California, it was its New York debut that first made waves on a national level.
"Certain dishes are like that famous obelisk in Kubrick's 2001: A Space Odyssey," New York's restaurant critic Adam Platt says. "When it lands in their midst, the apes have never seen anything like it, and they are changed forever. Miso cod was one of those dishes." As it happens, Nobu's glazed fish benefits from two strokes of real genius. The first is that the kitchen crisps each filet to a perfect amber caramel — diners get a dish that's obviously been cooked, a great gateway for customers who were still wary of sushi back in 1994. The other is that the marinade itself is decidedly sweet, thanks to mirin and sugar, which appeals to the notoriously fickle American palate. On top of all that, the fermented aspects of mirin and miso contribute booming, glutamate-rich flavors to the small plate. "The taste," Matsuhisa says, "is a lot of umamis."
The deliciousness of the fish itself is just one reason the dish is such a hit, but the practical innovation, from a chef's standpoint, is that it is dead-simple to make: Black cod, which is another name for sablefish, was very affordable in 1994. Line cooks found that it kept well in its marinade, which minimized spoilage, and broiling is one of the simplest preparations in a busy kitchen — any line cook can finish dozens of orders simply by sliding a sheet pan full of fish under the flame for a few minutes. Additionally, undercooking miso cod isn't easy to do, either: The marinade caramelizes before the fish is fully cooked through, meaning the glaze acts like one of those pop-up turkey timers, signaling to even the most inexperienced cooks that the dish is done. And in the event of overcooking, the black cod's high fat content kept it from drying out. It's very forgiving.
So when you went to Matsuhisa's place in its earlier, trendier days, you ordered the miso black cod. When the Nobu empire expanded from Tribeca to London to Kuala Lumpur and beyond, young cooks found the dish easy to master, and jet-setting customers knew of at least one reliable menu item to order wherever they landed. It was in the vanguard of classy fish. Soon enough, the dish became big on the banquet scene, and versions of miso black cod showed up on all sorts of non-Nobu menus — homages to and knockoffs of the status-symbol dish flourished and became, in a way, advertisements for Nobu. Black cod with miso was effectively the Momofuku pork bun of its day, a highly replicable item bearing the slightest hint of a chef's signature.
Of course, the surge in popularity meant that black cod prices would never stay as low as they were in the mid-90s. "It used to be the really cheap," Matsuhisa says. "Now the price is very high — not only because of me. All over the different restaurants, even the Italian restaurants, the French restaurants, they started using black cod." (Nobu says he uses the same purveyor for all of his black cod.)
The tradeoff for the high price of the fish is brand recognition that transcends international borders, and has made the restaurant chain essentially critic-proof. Last week in Britain, the Michelin Guide stripped Nobu's two London locations of their stars. It hardly seems like that will hurt the brand: Nobu is already at work on a new hotel in London, which will no doubt serve plenty of black cod with miso when it opens.
Additional reporting by Trupti Rami.