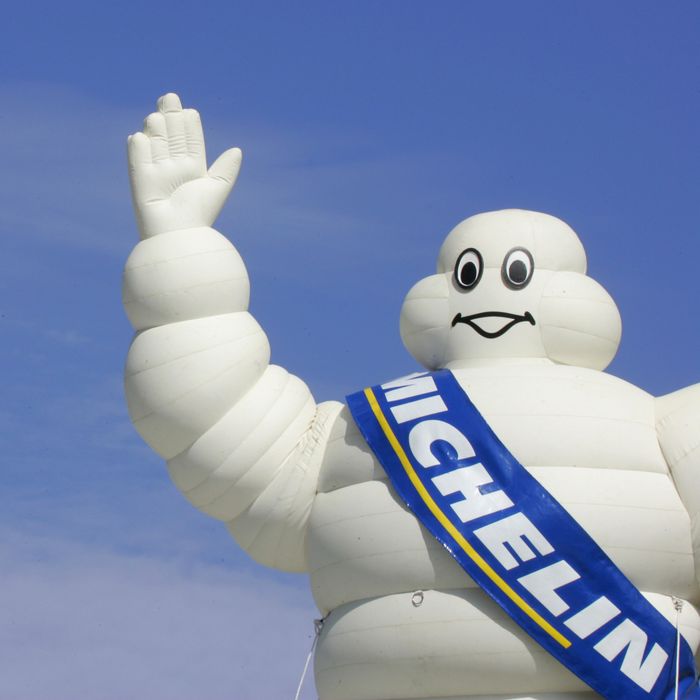 Who's he waving at?
Photo: Joel Saget/AFP/Getty Images
The little red guidebook announced its "Bib Gourmand" picks for New York City last week, and this afternoon Michelin published its collection of starred restaurants for its 2015 guide. Most notably, Daniel Boulud's flagship lost a star — it now has two instead of three — while Brooklyn's River Café, which was decimated by Hurricane Sandy, is now back on the list. The surprises include Patti Jackson's Delaware and Hudson, the sleepy Carroll Gardens restaurant Take Root, and Pok Pok Ny. The full list is straight ahead.
Three Stars:
Chef's Table at Brooklyn Fare
Eleven Madison Park
Jean Georges
Le Bernardin
Masa
Per Se
Two Stars:
Aquavit
Atera
Blanca
Daniel
Ichimura
Jungsik
Marea
Momofuku Ko
Soto
One Star:
15 East
Ai Fiori
Aldea
Andanada
Aureole
Babbo
Bâtard
Betony
Blue Hill
Bouley
The Breslin
Brushstroke
Cafe Boulud
Cafe China
Carbone
Casa Enrique
Casa Mono
Caviar Russe
Danny Brown Wine Bar & Kitchen
Del Posto
Delaware and Hudson
Dovetail
Gotham Bar and Grill
Gramercy Tavern
Hakkasan
Jewel Bako
Juni
Junoon
Kajitsu
Kyo Ya
La Vara
Lincoln
Luksus
Meadowsweet
Minetta Tavern
The Modern
The Musket Room
M. Wells Steakhouse
NoMad
Peter Luger
Picholine
Piora
Pok Pok Ny
Public
The River Café
Rosanjin
Seäsonal
Spotted Pig
Sushi Azabu
Sushi of Gari
Take Root
Telepan
Tori Shin
Torrisi Italian Specialities
Tulsi
Wallsé
Zabb Elee
ZZ's Clam Bar
So, what are the most notable trends, shifts, and notes of New York's Michelin star system since last year's ratings were released?
• Daniel lost a star. Michael Ellis, who serves as international director for Michelin, explained the downgrade to Bloomberg's Richard Vines. "Daniel Boulud is a great chef and he's got a wildly popular restaurant. But we've been following him closely and he hasn't been consistently delivering food at the three-star level," he said. It seems like the issues may be more complex than that, however.
• Blanca scored a huge win. Carlo Mirachi's tasting menu-based Blanca bumped up to two stars, from one, making it the only Brooklyn restaurant in the two-star range.
• Brooklyn made a strong showing otherwise. Patti Jackson's five-month-old Delaware and Hudson, which specializes in mid-Atlantic roots food, nabbed a star, as did Pok Pok Ny, La Vara, Luksus, and Take Root.
• Several restaurants lost their stars altogether. Most notably, Hooni Kim's Danji and Anita Lo's Annisa lost their stars. Tamarind Tribeca and Sichuan specialist Lan Sheng did as well. And both A Voce Columbus and A Voce Madison, which remained in the guide last year after chef Missy Robbins left the restaurant group, have now been taken off the list.
• The guide said goodbye to some great places. Aska and Le Restaurant, which closed, no longer appear among the guide's rankings, while Wylie Dufresne's wd~50 has lost its star because it too will close. Rouge Tomate, which shuttered in August and has yet to announce the address of its new home, was presumably dropped for the same reason.

Related: Trouble on East 65th Street: Why Does Daniel Keep Losing Stars?