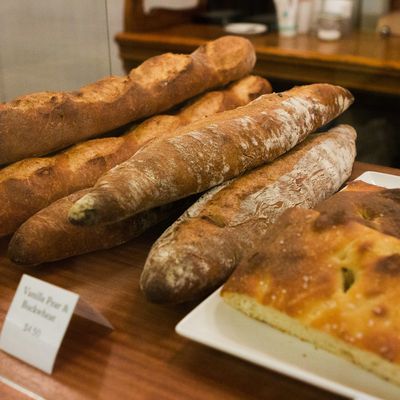 The aroma of freshly baked bread wafts through the lobby at 40 Worth.
Photo: Konstantin Sergeyev
These days it's possible to eat just about anything anywhere. And if you're a roving omnivore like the Underground Gourmet, you don't restrict your calorific intake to a particular setting — certainly not to your own kitchen or the type of restaurant that spoils its guests with actual chairs with backs and tables with legs. You may, in fact, have recently slurped oysters aboard a creaky old schooner docked along the Hudson, grabbed a ramen burger in the gravel-strewn lot of a hipster gastroflea, or maybe ordered a nice lamb-face salad in a Flushing mall basement. But when was the last time you tucked into a first-rate pain au chocolat in a downtown office building hallway? Probably never. Which is why we recommend you buzz over to the new Arcade Bakery in Tribeca. Otherwise your Unusual-Places-in-Which-I-Have-Eaten checklist is in grave peril of becoming obsolete.
The brainchild of Roger Gural, a Bouley and French Laundry alum, the bakery is situated at the end of a lovely vaulted-ceiling lobby at 40 Worth Street — also known as 220 Church Street, Arcade's official entrance. The place, which opened in May, still has an air of secrecy about it; before last week, when signage was installed on the facade, the wafting aroma of freshly baked bread was its only advertisement, and it occupies what you might call a nontraditional retail space — a long-vacant entryway that had been sealed up after the building's management reoriented its lobby. When you enter the library-hushed hall and behold a retail window stocked with all manner of vienoisserie, loaves of rustic bread, various sandwiches, and an array of babkas, you feel a bit of the emotion Augustus Gloop must have experienced upon entering the Willy Wonka factory.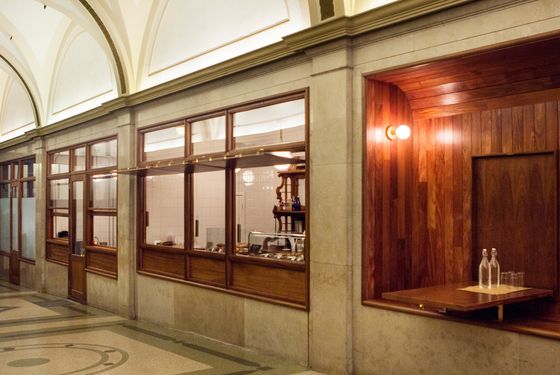 So how did this talented bread man end up baking baguettes in a lobby? Gural, it turns out, is no stranger to 40 Worth: He comes from the prominent real estate clan that owns the building, and some years back, he occupied the rooftop superintendent's apartment. At the time, baking was a hobby that became so all-consuming, Gural ditched his television-production career to enroll at the French Culinary Institute. From there, the world — or at least New York (Bouley and Amy's Bread), then France for a year-long apprenticeship, then Almondine in Dumbo, and finally Napa Valley, where he served as head baker at Thomas Keller's culinary compound (Bouchon Bakery, Ad Hoc, the French Laundry).
That experience no doubt accounts for Gural's flaky-tender croissants and his crisp and crackly, naturally leavened loaves, which reflect serious French training, and a rare attention to detail not often encountered in such a plebeian setting. But when he returned to New York, determined to open his own bakery, Gural wanted to keep production small and costs low — to create a true neighborhood bakery in a space he could afford. Inspired by the Japanese model of locating shops and restaurants out of sight, tucked away in obscure nooks and crannies (and specifically, by viewing Jiro Dreams of Sushi), Gural began brainstorming how he might utilize the abandoned corridor at his old homestead. "The difference from being on the street compared to back of the lobby is huge in terms of rent," he says. "If I were to have street frontage it would never make financial sense."
But with the help of his architects, Gowanus-based Workstead, Gural did more than simply transform a onetime ATM into a retail counter and an adjacent space into an open kitchen equipped with a fancy German electric oven. Somehow, the designers managed to imbue the hallway with the spirit of a grand cafe, refitting display alcoves into mahogany-paneled seating cubbies with brass light fixtures and drop-down tables set, during weekday business hours of 8 a.m. to 4 p.m., with butcher paper and water bottles.
Even if Gural were serving baloney sandwiches on Pepperidge Farm white, Arcade would be a pretty nifty place to have lunch, or at least a cup of coffee. But his streamlined menu is just as much of a draw: well-constructed sandwiches and custardy quiche; chocolate-walnut babka and pear tarts; and, somewhat unexpectedly, exceptional puffy-rimmed pizza Gural fashions with baguette dough, a mixture of imported buffalo mozzarella and Lioni's domestic fior di latte, crushed San Marzano tomatoes, and a dusting of sharp Romano cheese. By far, it's the best pizza you'll ever eat in a vestibule.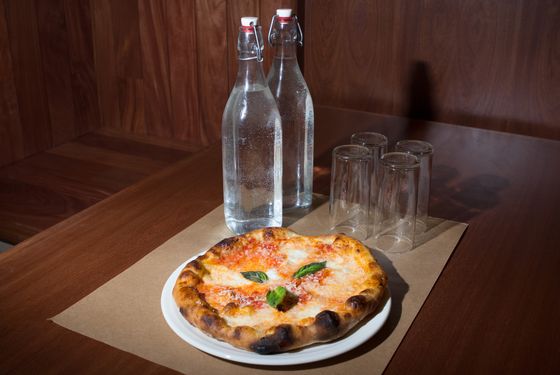 220 Church St., nr. Worth St.; 212-227-7895