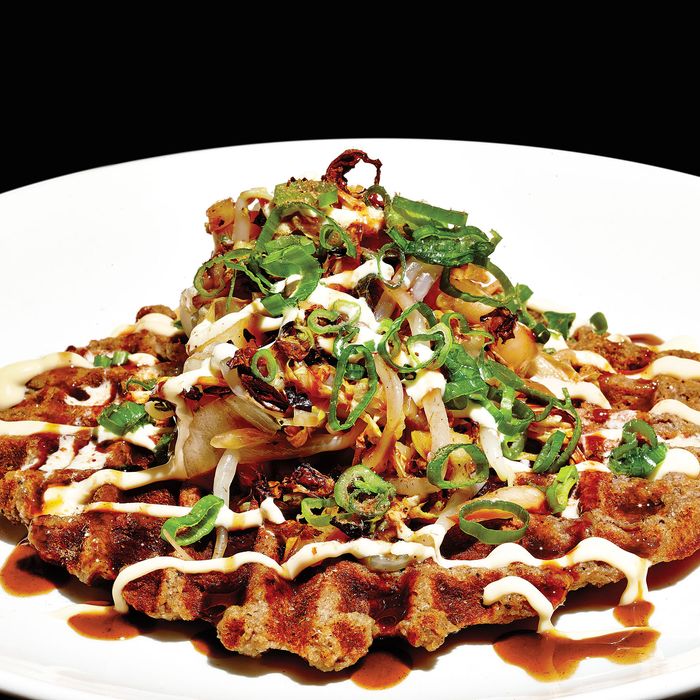 Ivan Ramen's Lancaster okonomiyaki.
Photo: Bobby Doherty/New York Magazine
East Village entrepreneur Bon Yagi might not have introduced okonomiyaki to New York when he started serving the savory Japanese cabbage pancake at his street-food shack, Otafuku, in 2000, but he certainly popularized it. (Earlier sightings do exist: In a 1988 review of Oyshe on the Upper West Side, former New York Times critic Bryan Miller referred to the "light and healthful style of cooking called okonomiyaki, which the restaurant bills as health food for the samurai warrior," and described the version he sampled as "intriguing for the texture but, on the whole, bland. A good dose of salt and pepper or fresh herbs would make all the difference.") Miller and even Yagi, who relocated and expanded his shop (now Otafuku x Medetai, 220 E. 9th St., nr. Second Ave.; 646-998-3438) earlier this year, probably wouldn't recognize today's riffs on the actually not so healthy dish whose very name invites tinkering. Okonomiyaki, which has been compared to pizza, latkes, and omelettes, translates to "as you like it, grilled," and in Japan, diners choose what meat or seafood they want incorporated into the flour-and-egg batter. Its defining characteristics include its texture (crisp outside, gooey within), its agreeable greasiness, and its distinctive garnish: squiggles of Kewpie mayo and a sweet ketchup-soy-Worcestershire-type sauce, a sprinkle of nori powder, and a blanket of shaved bonito flakes that flutter from the heat.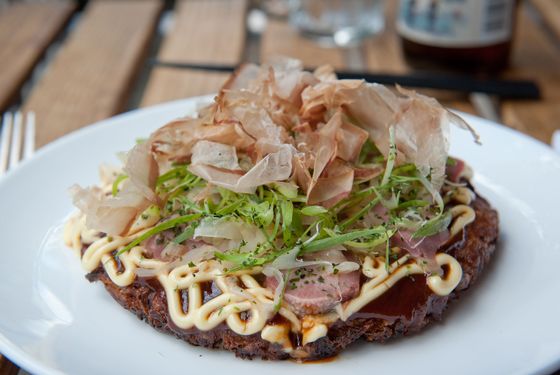 As the Japanese pubs called izakayas proliferated over the past decade, so did okonomiyaki, a menu staple. But today's chefs take even more license than the food's name suggests. At Ivan Ramen (25 Clinton St., nr. Stanton St.; 646-678-3859), Ivan Orkin reinvents the pancake as a scrapple waffle, made from buckwheat, cornmeal, chicken livers, and pork shoulder, topped with charred cabbage and pickled apples. At Shalom Japan (310 S. 4th St., at Rodney St., Williamsburg; 718-388-4012) in Williamsburg, married co-chefs Aaron Israel and Sawako Okochi fuse their Jewish and Japanese heritages by crowning their okonomiyaki with corned lamb tongue and sauerkraut. Hip new izakayas like Azasu (49 Clinton St., nr. Stanton St.; 212-777-7069) and Bar Chuko (565 Vanderbilt Ave., at Pacific St., Prospect Heights; 347-425-9570) serve fairly classic versions, as will Ganso Yaki (515 Atlantic Ave., at Third Ave., Boerum Hill), opening this fall in Boerum Hill, where partners Tadashi Ono and Harris Salat plan to offer not only the cabbage-and-pork-belly style native to Osaka but a Korean-inspired one with oysters, shrimp, and squid, dressed with spicy Korean miso. (Although Osaka's version is prevalent in New York, Hiroshima is known for one that incorporates noodles and egg; you can find something similar at St. Marks Place stalwart Sushi Lounge [58 St. Marks Pl., nr. First Ave.; 212-598-1188], formerly known as Natori.)

This adaptable pancake just might be the ultimate blank canvas for chefs. When Joshua Smookler opens Mu Ramen (1209 Jackson Ave., nr. 48th Ave., Long Island City) next month, he'll serve a rendition so interpretive he puts it in quotation marks on the menu: His "okonomiyaki" consists of a siphon-charged batter of cornmeal and egg whites flavored with green onions and topped with tobiko, smoked trout, and foie-maple syrup. "Is it a pancake?" he asks. "Yes. Is it as I like it? Yes." And in the liberating spirit of okonomiyakiness, that is enough.