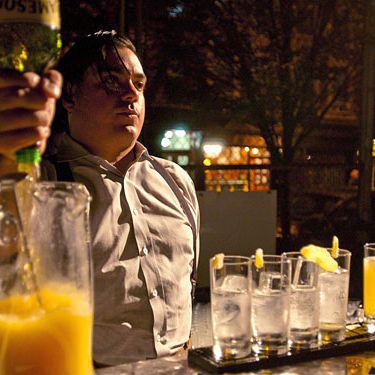 Petraske, bartending, most likely with Joni Mitchell playing in the background.
Photo: Jed Egan
Sasha Petraske tells Robert Simonson that a pesky demolition clause in his current Milk & Honey lease means he'll be forced to close the establishment next month. The second version of the upscale cocktail bar debuted in January of 2013 at 30 East 23rd Street, a space that's three times larger than the bar's original Lower East Side location. (That one's Attaboy now.)
Petraske, who abruptly dropped Milk & Honey's famous reservations policy at the 66-seat bar last year, says October 25 is the bar's very last call before its current home is torn down in advance of a new development, and the relocation also means he will downsize: "We hope to move the venue back to its original size, somewhere downtown, hopefully opening in February," he tells the Times.
Related: Milk & Honey Drops Reservation Policy, Introduces 'Joni Mitchell Blue Hour'
[NYT]