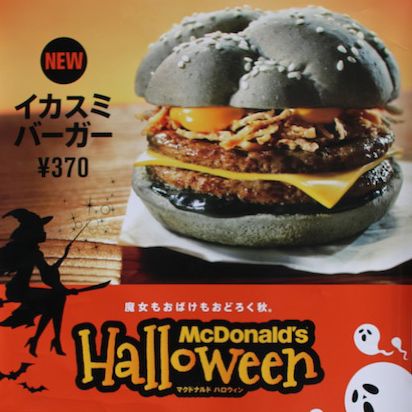 No black cheese? Come on.
Maybe McDonald's saw Burger King's black-bunned and shiny black-cheese-topped burger and promptly rushed this anticlimactic thing into production? In any event, as part of a Halloween-themed duo, the "Squid Ink" burger has two patties, fried onions, and plain cheese. There's also a mysterious-looking jet black sauce, and the limited-edition burger is now available at three Tokyo branches.
As with Burger King's recent foray into the realm of dyed-black buns, though, the real-life execution seems a little underwhelming.
The Halloween yin to the double squid-ink burger's yang is a ghost-themed chicken sandwich with Camembert, lettuce, and unnaturally white bread that also looks pretty edible. Next time, maybe go with the Dark Knight tie-in or something?
Related: Burger King Japan's Black Burgers Are Even Worse in Real Life
[RocketNews24]