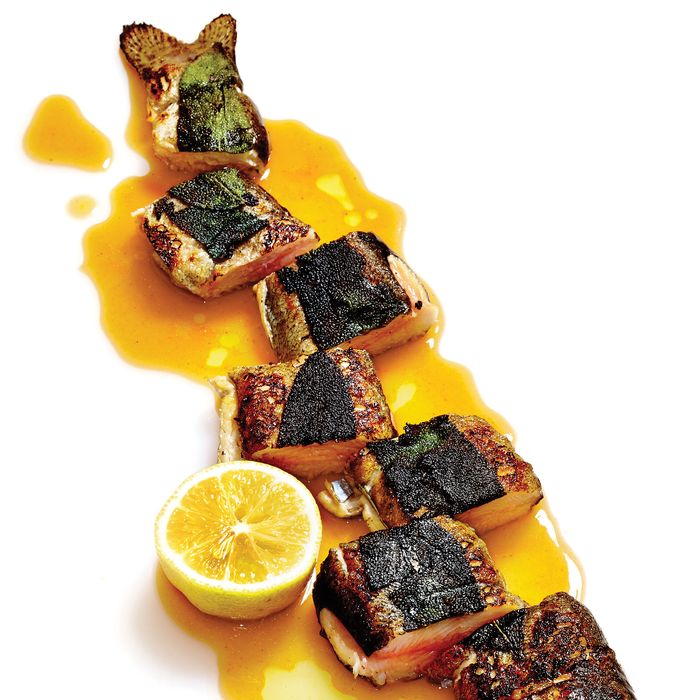 Photo: Bobby Doherty/New York Magazine
Saltimbocca means "jump in the mouth," presumably because the ancient dish (traditionally prosciutto and sage rolled up in veal scallopine and sautéed in butter) is bursting with flavor. Some, however, say it's because the original bite-size morsels were so good they'd hop from the plate and into your mouth of their own volition, which sounds a little scary, like something you'd be advised to send back to the ­kitchen. In any case, the name hasn't anything to do with leaping trout. Now, though, it does. Nick Anderer, the chef of the ­Roman-inspired restaurants Maialino and the brand-new ­Marta, has reimagined the classic, giving it a delicious surf-and-turf effect. Grilled over hardwood instead of pan-fried, this trout saltimbocca is herby, salty, and faintly smoky.
Mouse over or tap the image to read more.
On the menu at Marta, $28; 29 E. 29th St., nr. Madison Ave.; 212-651-3800.
Photograph by Bobby Doherty/New York Magazine
*This article appears in the September 22, 2014 issue of New York Magazine.