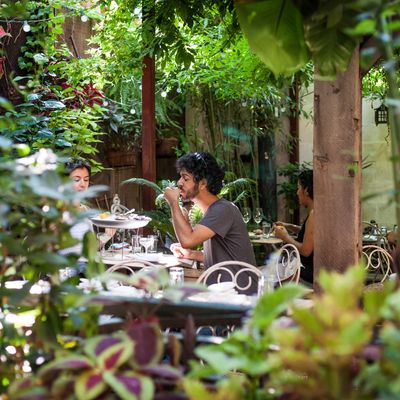 Let's hope they can recreate the magic.
Photo: Noah Fecks
The many, many fans of Maison Premiere's oysters and absinthe will be excited to learn that owners Joshua Boissy and Krystof Zizka are opening a new restaurant in 2015, at 905 Lorimer Street in Williamsburg. Details are scarce, but considering the success of their first project, this is a big deal.
When Maison Premiere opened in February 2011, it was primarily a bar — with oysters, of course — and in the past few years, it's become a Brooklyn institution of sorts. The stunning garden, now-expanded menu, and jazzy French Quarter vibe make it wildly appealing. But despite its success, Boissy and Zizka themselves have stayed relatively under the radar — perhaps because neither is a chef.
All Grub knows about their new project is that it's in the former home of Lokal , a 70-seat space across from McCarren Park. It already has a handsome bar. We'll keep you posted as we learn more.