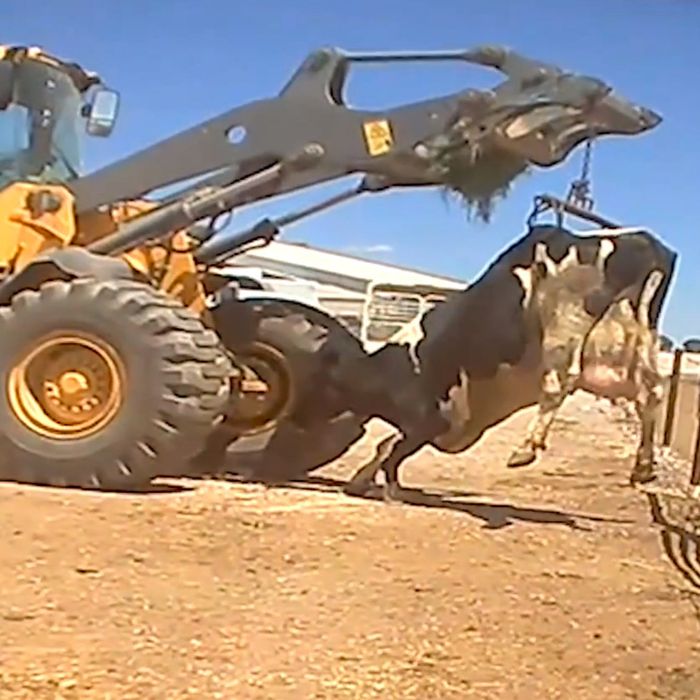 An activist working undercover on a New Mexico dairy that supplies mozzarella giant Leprino Foods videotaped workers assaulting and beating the cows. The New Mexico Livestock Board tells the AP they're investigating the incident at the farm, whose cheese is used by several national chains and food brands, "very aggressively."
The video, which was posted online by the Los Angeles-based group Mercy for Animals, depicts workers punching and kicking cows, dragging them with heavy machinery, whipping and stabbing them with screwdrivers, and shocking their genitals. It's obviously incredibly graphic:
Leprino Foods calls itself the world's largest mozzarella producer, and its cheeses are used on Papa John's pizza, as well as retail products like Hot Pockets and Stouffer's boxed lasagna. The company yesterday said it was "extremely repulsed" and "terminated immediately" all supplies from that farm, Winchester Dairy. Mercy for Animals, however, says Leprino's "complete lack of animal welfare policies and guidelines for suppliers" allowed "a culture of cruelty and neglect to fester at this dairy factory farm;" Winchester says it has fired all of its employees and dispersed thousands of cows to dairies with strong animal-rights track records.
The group specifically called out Domino's to "implement meaningful animal welfare policies." A spokesperson responded, telling the Detroit Free Press: "No act of cruelty can ever be condoned. Ever. What we do know is that this is not an issue with our cheese supplier — it was an isolated case of sadistic acts by employees at a single dairy farm in southern New Mexico." The chain may also be rethinking a new poorly timed ad dedicated to this very cheese, which it points out is "crafted to perfection by an award-winning mozzarella maker using milk from family-owned dairy farms." One fewer of those now.
[Free Press, AP]