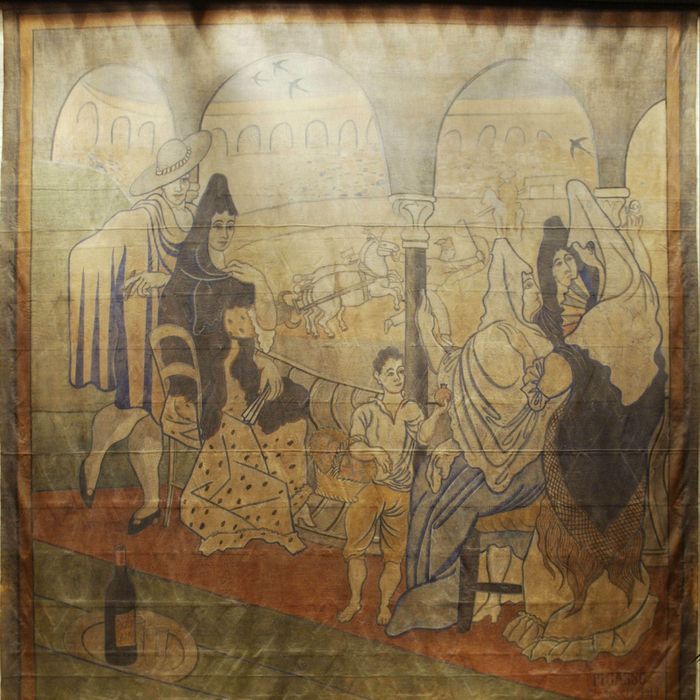 It belongs in a museum.
Photo: Matthew Peyton/Getty Images
It took a group of technicians working more than seven hours in the dead of night very early yesterday* to take down Picasso's Le Tricorne and pack it into a moving truck, but the deed's done — the Four Seasons' famous giant carpet is officially gone. The development ends the months-long standoff between Seagram Building owner (and noted Picasso hater Aby Rosen) and the New York Landmarks Conservancy, the guardian of the artwork, which has now negotiated a new home at the New York Historical Society.
The press has gleefully chronicled Rosen's not-so-secret distaste for the 19-by-20-foot stage curtain, and in a 5,800-word dive that went up this morning, Rosen's revulsion really gets palpable: The real-estate developer says he doesn't think the work is legit because Picasso "never worked on the canvas directly."
Now comes the fun part: figuring out what to put in its place. And Rosen just cannot make up his mind about this. He says he's considered Cy Twombly and Brice Marden, but really, the possibilities are just as endless as his massive art collection. Beyond that, there are even more options. "I had the Picasso Museum offer me three Picasso paintings," he says.
*This post has been updated to show that the piece was removed two nights ago, not last night.
Earlier: Future of Four Seasons' Picasso Tapestry Depends on Court Ruling
[NYT, VF]