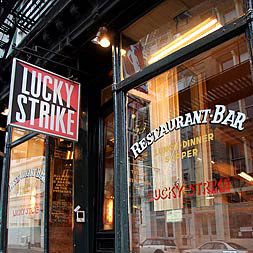 Lucky Strike in Soho.
Photo: Lauren Klain Carton
It might have been difficult to sum up the "incredible amounts of entitlement, condescension, and drunk nonsense" inflicted on Lucky Strike bartender Laura Ramadei throughout her five years on the job, but after a customer groped her before saying he would just take her "to go" this past weekend, Ramadei decided to give it a try in a lengthy Facebook post that's now been shared some 4,000 times. It probably should be shared at least 100,000 more.
"Dear Brian," she begins, after locating alleged perpetrator Brian Lederman through a basic internet search. "When I asked you and your companion if you'd be eating, or needing anything else from me, you put your hand — ever so gently — ON MY ASS and asked if you could take me 'to go.'"
Lederman apparently left soon after Ramadei explained the overture wasn't at all acceptible. In her account, she credits the bar's healthy working environment and "incredibly supportive coworkers and manager," but writes, reluctantly, that "misogyny is alive and well" otherwise, and for her the good parts of the job have long been overshadowed by a series of horrible low points in which she was subject to abuse. That includes verbal abuse, physical "affronts," and sexual harassment, she writes.
For his part, Lederman, the financial worker at the center of the incident who reportedly drinks his Stoli with rocks and apparently knows everybody in Manhattan and says he'll make sure Ramadei never works again in this town, takes a moment to assure the Post what really happened couldn't be more different from her account. "I clearly remember making a joke when the girl said, 'What would you like?' I kiddingly said, 'I would like you to go with nothing on it.'" The crucial difference here, apparently, is what he said happened next. Lederman says he's "grabbed plenty of girls' asses in my life," but he "never grabbed hers." As if it might bolster his case, he goes on. "That f-king c-t, for her to do something like that is pretty ridiculous," he tells the paper.
Ramadei's account is a side of the business few ever hear about. Because of this incident and more like it, she writes, she's decided it was time for a career change. "Without your inspiration I wouldn't be quitting my job today, and endeavoring a better chapter of my life," she writes.