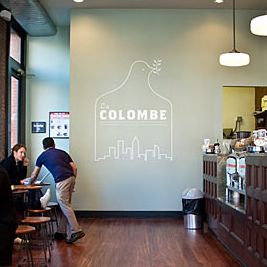 Fly like a bird, La Colombe.
Photo: Dave Ratzlow
Philly-based third-wave coffee darling La Colombe will be the latest specialty-coffee roaster to embark on an all-out expansion tear. Co-founder Todd Carmichael says he inked a $28.5 million deal with private investors at the end of last month and will now get cracking on an ambitious East Coast-based growth plan that includes "upwards of 100 new cafés." The next phase of La Colombe has apparently been in the works for some time. "We kind of work in five year shifts where we say, 'What are we going to do for the next five years?'" Carmichael said. "This time we wondered if we should take it easy or step on the gas, and we did the latter."
Seven new locations are already signed and in progress, he says, and will be for the most part in markets where La Colombe is already open — Philly, D.C., Chicago, and NYC, where one is opening in Hudson Square. Other projects include a much-hyped rum distillery in Philly.
The latest growth spurt for the 20-year-old company closely mirrors the recent move by Blue Bottle, which landed a $25 million investment earlier this year to underwrite a serious bicoastal expansion and foray into the subscription-model business. Carmichael also says a move into the Northwest's hallowed coffee territory, Seattle in particular, is certainly possible. Sounds about right — his new coffee brewer that looks just like a bong will fit right in.