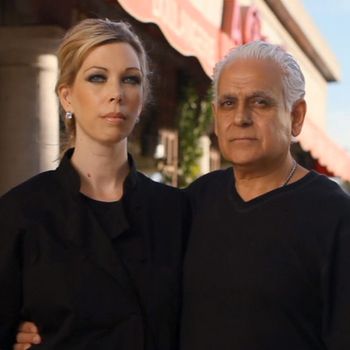 They were doing so well up until now.
Photo: FOX
Gordon Ramsay's Kitchen Nightmares may be over, but Amy and Samy Bouzaglo, the proprietors of the Scottsdale restaurant featured in two of the show's nuttiest episodes ever, are apparently still causing trouble and making headlines for everything except for their food. Details are sketchy, but witnesses say that a drunk customer provoked the husband-and-wife restaurateurs and was asked to leave the restaurant. He did, but the altercation spilled out onto the sidewalk, and Samy charged at the customer with a knife. "You're going to go to jail for the rest of your life," an onlooker said. "Think about what you're doing."
For what it's worth, the Bouzagloses told TMZ that the chef's knife Samy was wielding in a stabby manner was really just a pen. It's unclear if the Amy's Baking Company proprietors are still trying to develop their own reality-TV show, but this latest outburst no doubt means that several executives from obscure cable-television networks are already on the next plane to Phoenix.
Related: Over 60 Percent of the Restaurants on 'Kitchen Nightmares' Are Now Closed
Related: Dinner With the Bouzaglos: A Trip to America's Most Controversial Restaurant
[Gawker]