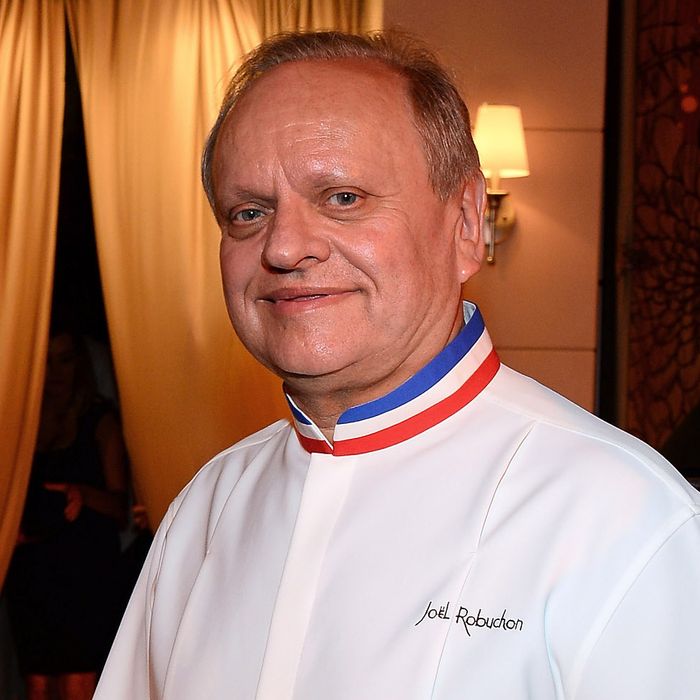 Joël is in a New York state of mind, just like that other Joel guy.
Photo: Ethan Miller/Getty Images
Joël Robuchon tells Florence Fabricant that just like Ace Frehley, he's back in a New York groove. In fact, the highly esteemed French chef will open a much larger and most definitely spiffier version of his L'Atelier, which closed at The Four Seasons in the summer of 2012. This time, though, instead of a midtown address, Robuchon's got a whopping 11,000 square feet to work with, and the new restaurant will be the "jewel in the crown" of Brookfield Place. Yes, that's 11,000 square feet.
The chef hinted at a return last year, but the project he mentioned at the time was rumored to be a midtown endeavor. To cap off the already overloaded lower Manhattan food complex, Robuchon says he will have the traditional counter space and more relaxed table service like he offers elsewhere, and the space will also have outdoor seating where small plates will be served. There's also going to be a lounge and bar, which is a first for the chef. Essentially, this is Robuchon cubed.
The foie and eels terrines return, no doubt with a number of new tricks from the newly happiness-obsessed chef, in March of 2015.
Related: Joël Robuchon Confirms New Restaurant in New York
[NYT]