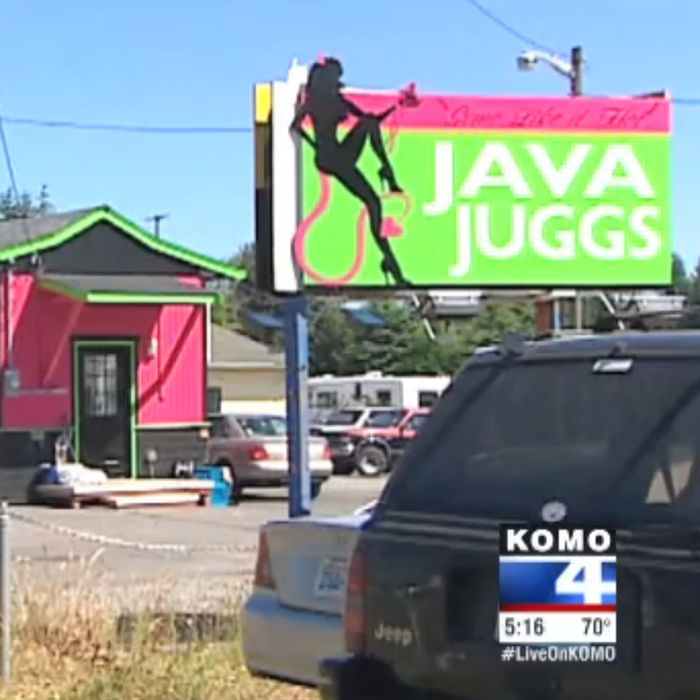 Always money in the bikini stand.
Photo: KOMO News
According to prosecutors, a handful of Washington's bikini coffee stands — an infamous roadside feature there — actually were doubling as drive-through brothels. Owner Carmela Panico is charged with promoting prostitution as well as laundering more than $2 million from the off-the-books earnings at tiny huts with names like Java Juggs, Twin Peaks, and the Hot Spot staffed by workers in bikinis or lingerie. "Droves of men" would queue up, pay $20 for a $6 coffee, then get more than coffee.
Prosecutors allege Panico was an iron-fisted madam, fining baristas who didn't wear high heels or maintain proper tans. The constant policing was apparently part of the job: Workers made $15,000 to $30,000 a month, according to court documents, and another says she made $500,000, all told. The charges are part of a three-year investigation that began when unsuspecting customers complained of getting flashed by workers who were presumably in search of better tips. Because the situation was percolating for so long, more skeletons are bound to emerge from the closet: Police say there were "many other crimes" occurring "simultaneous with the prostitution and the money laundering"; a veteran sergeant allegedly tipped off Panico in exchange for sexual favors; a rival bikini stand probably burned down one of her huts; and there are alleged ties to an organized crime family. Through her lawyer, Panico denies the allegations and says she's quit the coffee business.
Coffee Stands Raked in Millions Through Sex Trade, Prosecutors Say [Herald]
Bikini Barista Stand Owner Accused of Running Prostitution Ring [KOMO]