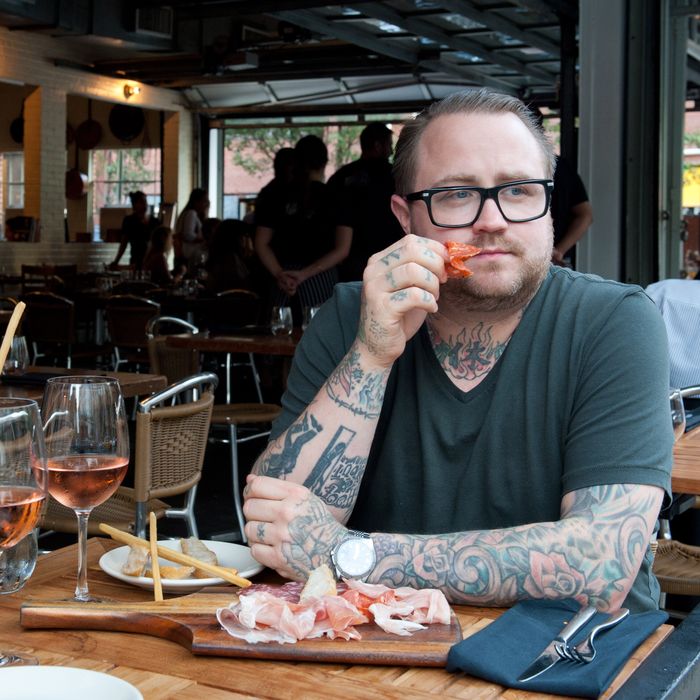 "New York started off by punching me in the face, but now it's giving me a hug."
Photo: Liz Clayman
When chef Jamie Bissonnette won his James Beard award for Best Chef in the Northeast earlier this year, he celebrated by whipping out his flask. It wasn't for him, though. Instead, Bissonnette — the chef and owner of Coppa and Toro in Boston, as well as the year-old Toro outpost in New York — passed it around to friends, family, chefs, total strangers, and whoever was close by. "I always have a flask when I go to events because I'm socially weird," he explains. "I just have it so that I can be the one to supply it."
The James Beard prize is just one highlight of a very busy year for Bissonnette: This month, he published The New Charcuterie Cookbook and, along with his business partner Ken Oringer, celebrated the first anniversary of Toro's New York location. The opening of the restaurant arguably kicked off this most recent run of achievements — but even though it's been a bona-fide success and received a string of warm reviews, its success was hardly guaranteed. "I had plenty of chef friends who said, 'You started in a hole: You're opening a huge restaurant, and people always assume that huge restaurants are going to be crap,'" Bissonnette recounts. "New Yorkers don't like out-of-towners. They assume that they can't keep up, or they'll open a place and mail it in."
So, first, Bissonnette went looking for help: "I texted David Chang the day we signed saying I might need some advice, and his response was, 'Hey, man, I'll wash dishes on opening night if you want me to — whatever you need,'" Bissonnette remembers. "We took a couple of staff members from him and all he said was, 'These are their strengths and weaknesses.' That was big."
He also took notes from his peers: "Andy [Ricker] and Danny [Bowien] were welcomed in this city, too," he says. "The reason that I think people were nice to us when we got here is because we're kind people. And we like to have fun — I don't take myself very seriously. Andy doesn't [take] himself nearly as seriously as he should. And Danny's insane."
The strategy has worked, of course. Since moving here, Bissonnette has done what many out-of-town chefs have failed to do: not just run a successful restaurant, but become embraced by the notoriously insular, critical clique of New York chefs. Even longtime New York stalwarts are happy to have Bissonnette in town. "Jamie is the quintessential young-ish chef," Jonathan Waxman says. "Jamie is intense about all things culinary and is an inspiration." As if that weren't admiring enough, Waxman adds, "He is a treasure."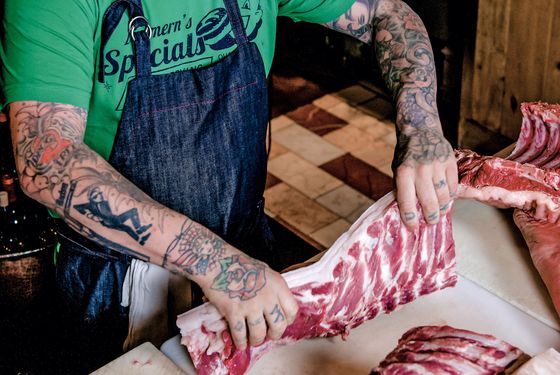 Bissonnette, like many chefs in town, has equally glowing praise for Waxman ("He's like a godfather to me"), so to talk about the charcuterie book and honor its spirit, we agreed to meet recently at Barbuto for some rosé and salumi. In his line of work, standoffishness can be the norm, but Bissonnette has always gone out of his way to make other people feel at ease. As a kid, he carried cigarettes to parties even though he didn't smoke. And now, his only continuous white lie is that whenever he can't remember someone's name, he says, "I'm sorry, I smoke a lot of fucking weed!" (He doesn't.) "It makes everyone feel more comfortable if I admit something weird about myself or make myself vulnerable," he explains.
It's not like it's all warm fuzzies at Toro, though. "The city life personally kicked my ass a little bit," Bissonnette says about the move to New York. "It's a very lonely city. I was working so much, but now it's leveling off, and I like it a lot. New York started off by punching me in the face, but now it's giving me a hug." He also gets to spend more time with friends, like Justin Smillie — who's opening his own restaurant this fall — and the Meatball Shop's Daniel Holzman. As we're finishing the salumi at Barbuto, we decide to head to Cherche Midi to see another one of his friends, Shane McBride.
As we sit down at the bar, McBride sees us from the pass. He sends out a lot of food: vegetable crudités with salami, a squash-blossom salad, pan-roasted foie gras, quail with figs and polenta, and, of course, the prime-rib cheeseburger with bacon marmalade. Dessert is a plate of petit fours — including chocolate-salted-caramel bonbons that remind Bissonnette of Rolos. I mention that I've never had Rolos before, which I sense, for Bissonnette, seems sort of like admitting you've never tried beer before — unfathomable.
Bissonnette's favorite, though, seems to be the passion-fruit pate de fruit. It reminds him that, as a child, he cut the heads off gummy bears, mixed and matched their heads and bodies, and melted them back together. That probably wasn't the exact culinary moment that first inspired Bissonnette to become a chef, but he says it did happen early, during his days as a vegan, when his mom told him that if he didn't want to eat the meat she made for meals, he'd have to cook his own food. In fact, his family played a big role in his charcuterie cookbook. "I thought, How can I write it in a way that my dad could approach it without being intimidated?" he says, explaining that he wants the book to feel accessible and adaptable to home cooks. "It's like writing a book on how to kiss someone: You've got to infer how the other person kisses you back. You can't go all tongues blazing, or else it's horrible."
After dessert, as we waddle out into the street, full of burgers and foie gras, I bump into a friend and start talking for a few minutes. Before I even realize he's gone, Bissonnette has slipped away to a nearby bodega and purchased some Rolos. He returns and hands me the pack, smiling while I try one for the first time.