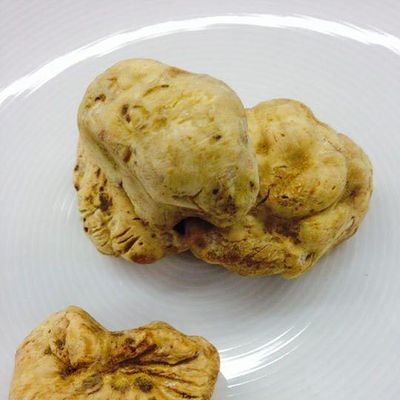 A thing of beauty.
Photo: Lever House/Twitter
For a certain breed of high-caliber restaurant, fall means white truffles, and white truffles, of course, mean money. So even though it's still technically summer for another few days, the first few shipments of this year's truffle crop have boarded jets and cleared customs all over the world, and Grub's sources in Northern Italy say Umbrian authorities are already busting truffle thieves ahead of the season's official start, which won't start for at least a few more days. This trend doesn't show any sign of slowing down, since restaurants that get shipments first can charge the truffle-craving masses even higher supplements while supplies are still scarce.
Then again, this is also expected to be a banner year for white truffles, which are currently around $1,000 a pound, down from recent years' highs of more than $3,000. "It was very wet and rainy in Italy's truffle producing region," says John Magazino, an import specialist for Chef's Warehouse. "Then it got hot. A lot of warmth and a lot of water means a lot of fungus."
While quantity is up and costs are down, it looks like the quality of this year's truffles will be above par, too. Grub truffle correspondent Bernhard Warner says weather fluctuations in truffle hot spots like the Apennines of Marche, Umbria, Tuscany, and Piedmont are a good sign.
But don't take Grub's word for it. Check out these truffle dishes from restaurants around the world that are making the most of the season's first batch.
White Truffle Season has begun @babboristorante ! #fall #truffles pic.twitter.com/zN15tmR2Ob— Babbo Ristorante (@BabboRistorante) September 17, 2014

My dealer just arrived. Umbria's finest. First white truffles in London this season? pic.twitter.com/uNKx7tfDPM— Daniel Doherty (@DanDoherty_) September 11, 2014

First of the season. White truffles pic.twitter.com/QgAaaRW23e— David Baarschers (@DavidBaarschers) September 16, 2014

First Piedmontese white truffles of the year. Fantastic already. pic.twitter.com/EFLVsFRzag— Justin Hurst (@proeat) September 13, 2014

Angel hair pasta with artisanal Vermont butter and fresh white truffles for tonight #Vegas pic.twitter.com/3a40Ggntwt— Delmonico Steakhouse (@DelmonicoSteak) September 8, 2014

#truffles #foodies #Dubai @BBCGoodFoodME @DXBConfidential @HotelierME @mycustardpie #Italtouch white truffles! pic.twitter.com/VNu9Ti0NFZ— Massimo Vidoni (@TrufflemanDubai) September 15, 2014

White truffles have arrived at Casa Lever! pic.twitter.com/AtxGs72JxH— Casa Lever (@Casa_Lever) September 17, 2014

All this week 1/2 price #Champagne and white #truffles at cost @THEMODERNnyc. Why? Because we missed you! pic.twitter.com/IHkr5Vu1t1— Sabato Sagaria, MS (@Sabato3) September 17, 2014

Related: White Gold: A Look at the 2012 Italian Truffle Trade