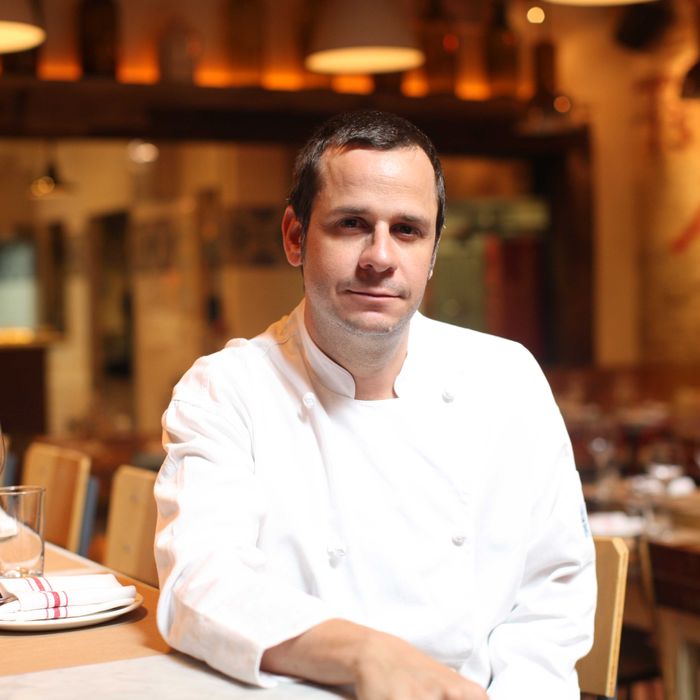 "Transition is very slow for people, and imposing my system fast would result in possibly only me in the kitchen."
Photo: Melissa Hom
What happens when you operate a critically acclaimed New York restaurant — one that's arguably on its way to becoming an institution — and your opening chef departs? It's a scenario that's more common than it seems like it should be, and owners deal with it in a number of ways: simply promoting the next person in line, hiring an outside chef to keeps things going as they are, or changing the direction of the restaurant completely. At Il Buco Alimentari, which lost chef Justin Smillie earlier this year, owner Donna Lennard decided to take a risk: She recently named Roger Martinez — a Barcelona native who's worked for Ferran Adrià, opened his own restaurant in Spain, and most recently, cooked at Bouley — as her executive chef. Martinez started three weeks ago, and while the changes that he's making to the restaurant seem subtle, they're significant. We sat down with him and Lennard to talk about how things are going.
How did you two meet?
Roger Martinez: She contacted me!
Donna Lennard: It'a little un-sexy. I got Roger's résumé through a head-hunter, and I was very excited because I love Spanish food. And I don't know if you know, but il Buco [on Bond] started out really as more of a Spanish-Mediterranean restaurant — more than Italian. It was much more tapas-style. But it's always been a fusion of the Iberian Peninsula and Italy, and I had been to Comerç 24 Quattro and elBulli. And my baker had been to Roger's restaurant, La Mifanera.
Roger, why did you first decide to move to New York?
RM: For a change of life. For my family. Because it's different. And because Ferran Adrià told me, "If you want to change the life, you [go to] Bouley." Il Buco is very different from cooking at Bouley, though. This is more typical of my cooking before, in Spain, because the food is saltier, it has more flavor, and it's more interesting. Bouley is so nice, but the food is plain — no salt, no fat, no dairy, everything is clean. Here, the restaurant is filled with young people.
DL: … Waiting to clog their arteries.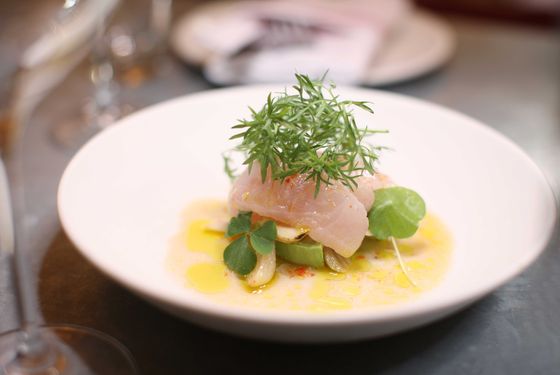 Red snapper ceviche with avocado, hearts of palm, clover, cilantro, and cherry-bomb chili.Photo: Melissa Hom

How will the menu evolve?
RM: I want to move more towards a market-driven menu. But a plate like short ribs is a speciality of the house. People come for it. It's so nice that it's not necessary to change it! And the artichokes. When you come in, you order fried artichokes with lemon … My favorite food to cook is fish because I'm Mediterranean. Here, the branzino is a popular plate, with the whole fish, but now we have a new plate: cod, beans, and pancetta. And I'm making salted-cod croquettes.
How about paella?
RM: Yes — it's with black rice and calamari. It's a specialty of mine. I spent seven years in one restaurant only making rice — the different rices of the world.
When will the new dishes appear on the menu?
DL: The new mushroom dish is on the menu — very simple. The rice dish is already here. We have a beautiful new crudo ceviche.
RM: We changed the ricotta — it's more seasoned.
DL: I think in the next two weeks, there will be a more significant change. But it's going to be very slow. The baccala, the cod dish, went on the menu.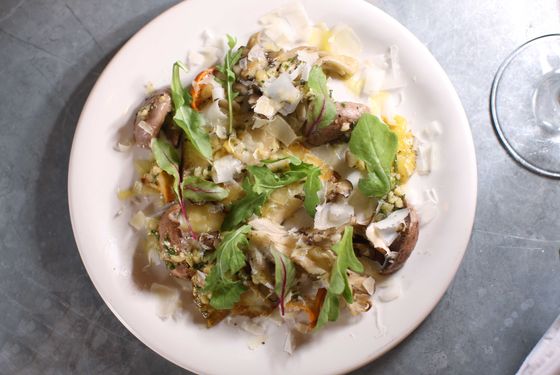 Market mushrooms with vanilla oil, pine-nut dressing, chives, parsley, Gouda cheese, and Parmesan.Photo: Melissa Hom

Donna, do you still consider this an Italian restaurant?
DL: I think the restaurant is still more Italian. It's Italian with a Mediterranean influence.
How much of the staff has stayed on since Justin left?
DL: We have mostly the same kitchen team, and Victoria — who was the sous-chef under Justin and ran the kitchen for the few months after he left — is moving up to be the chef de cuisine.
Roger, what was your strategy for transitioning the team while also asserting yourself as the boss?
RM: Other cooks change everything, but moving very fast is not understanding. Transition is very slow for people, and imposing my system fast would result in possibly only me in the kitchen.
DL: I have to say that the overwhelming feeling in the restaurant since Roger's come in the door, and I haven't said this in front of him, is there's a lot of sunshine. There's a lot of very positive energy.
Do you really think New York's the capital of the restaurant world? Is there even such a thing?
RM: Yes, it'a great destination. For me, it's No. 1. It's complicated because New York is a lot of work. For a restaurant, it's very competitive. You have a lot of restaurants, and a lot of chefs coming to New York and close their restaurants — like Alain Ducasse. Dani García can open three-star Michelin restaurants in Marbella, and over here, close Manzanilla. So I came here and worked for a chef for three years.
DL: To come here as a chef from Europe, from Spain, from France, from anywhere, and expect to open your own place and have success, is very difficult. For him, the opportunity to be brought over by — I mean, he was really recruited by Bouley — so to come over here and work in somebody else's organization, and understand the market, is a much easier path.
RM: And Donna reaching 20 years at il Buco is amazing. It's amazing!
Yes, it's your anniversary week! The guest-chef lineup is incredible — Jody Williams, Ignacio Mattos … so many great alums.
DL: Whenever a new chef comes in, it's always a very exciting moment. Most people have said to me, "What do you mean, you had 15 chefs at Il Buco?" I've literally had 15 people come in and out of the door in 20 years. But that's really the great satisfaction.