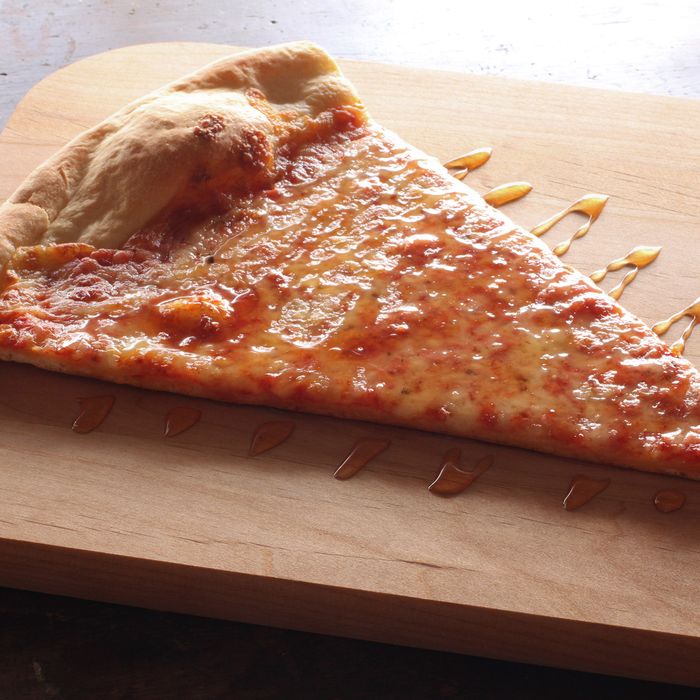 Pour some sugar on me.
Photo: Courtesy of Mike's Hot Honey
When Mike Kurtz, a 32-year-old Brooklyn resident, was traveling in Brazil several years ago, he stumbled upon a tiny pizzeria and found chile-infused honey on each table. It was his holy shit moment. "I've long been a lover of all things spicy, as well as pizza," Kurtz says. "So when I tasted it, I thought it was incredible." He became obsessed — and like someone who's returned from Italy wanting to re-create a perfect cacio e pepe, Kurtz set about making his own ultimate spicy honey. He spent eight years experimenting, and it appears that was time well spent. His product, Mike's Hot Honey, has been a hit since he debuted it four years ago. Now hot honey looks like it could be the next sriracha, and as interest has grown, so has Kurtz's competition.
If you've seen hot honey at a restaurant, you were probably at Paulie Gee's. In 2010, Kurtz began an apprenticeship at the Greenpoint pizza joint and presented owner Paul Giannone with a bottle of his homemade hot honey. Giannone loved it and decided to serve it atop his Sopressata pies. When customers started requesting to-go ramekins of the condiment, Kurtz knew he had made something special, and began producing, bottling, and selling his hot honey out of the Paulie Gee's kitchen — which is still his home base.
The key to hot honey's appeal is its versatility. Like all the great condiments — Heinz ketchup, sriracha — you can drizzle hot honey on all sorts of things. Pizza (of course), fried chicken, fresh ricotta, hot biscuits, Brussels sprouts. The sweet-heat combo is universally appealing, but hot honey also had an added layer of depth thanks to the floral qualities of both the honey and the peppers used to infuse it. (Kurtz keeps his exact recipe a secret.)
It was only a matter of time until somebody else saw the appeal and entered the hot-honey fray. Kurtz's biggest rival is MixedMade's Bees Knees, a start-up company launched in late January by entrepreneur Morgen Newman and his friend, Casey Elsass. Theirs is different than your typical artisan origin story: "Our business started in a funny way," Elsass says. "Morgen came to me with the idea of starting a business in 30 days, and I wanted to do something with food. Hot sauce is such a crowded market already, and spicy honey is much less crowded. When we started, we weren't even aware that there were other brands on the market." While Kurtz spent eight years working on his recipe, Elass only took two nights to develop his hot honey, which is spicier than its predecessor. The 30-day challenge for Bees Knees was totally self-imposed: Elsass and Newman set a time limit so that they could "avoid falling into inactivity." Time is of the essence when you're vying to become a category leader.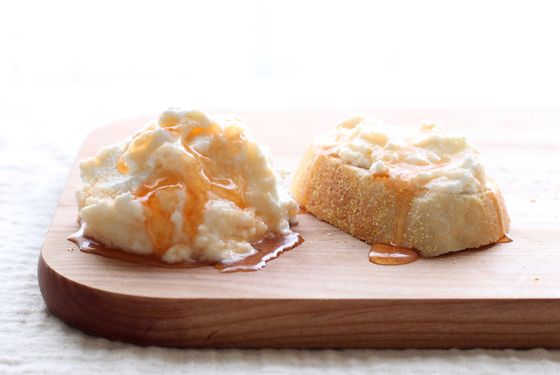 Both Kurtz and Elsass say that cheese and hot honey is their favorite pairing.Photo: Courtesy of Mike's Hot Honey
Bee Knees is growing exponentially, which is interesting because it's the more expensive product: An 8-ounce bottle costs $14, while a 12-ounce bottle of Mike's Hot Honey costs $10. (Kurtz's version does include vinegar, while Bee's Knees doesn't.) Newman and Elsass started their company because they saw an opening in the marketplace, and their tech-start-up approach is paying off: Demand is so high that Elsass recently quit his job at the Metropolitan Opera. He makes no secret of his ambitions, either: "We want to be in every city, and in as many states as possible," Elsass says. "Retail is our big focus." Bees Knees is already available at shops in Iowa, Nashville, Philadelphia, and Los Angeles, and the company has wisely partnered with fellow start-ups like Good Eggs and Mouth.
This is just the beginning of the expansion, too. Whole Foods will soon carry both brands, which is perhaps the biggest prize in the race to become America's premier hot honey. Success on the national stage could mean sriracha-like awareness and appeal — a bottle of hot honey in every food snob's pantry around the country.
For his part, Kurtz — essentially the godfather of hot honey — doesn't seem too concerned about his competition. "You can't patent a food recipe, so I assumed that at some point, someone else would start making it," he says. "They released a very similar product, but all I can do is focus on my own business." One of the dueling businesses could end up dominating, the VHS to the other products' Betamax. In reality, though, the two companies could end up both being successful, like the Coke and Pepsi of the hot-honey trade. For the moment, having two groups vying to become the leader only ends up exposing the condiment to more people — which will help both businesses. It seems it only takes one taste to catch potential customers off guard and get them hooked on a great new idea.