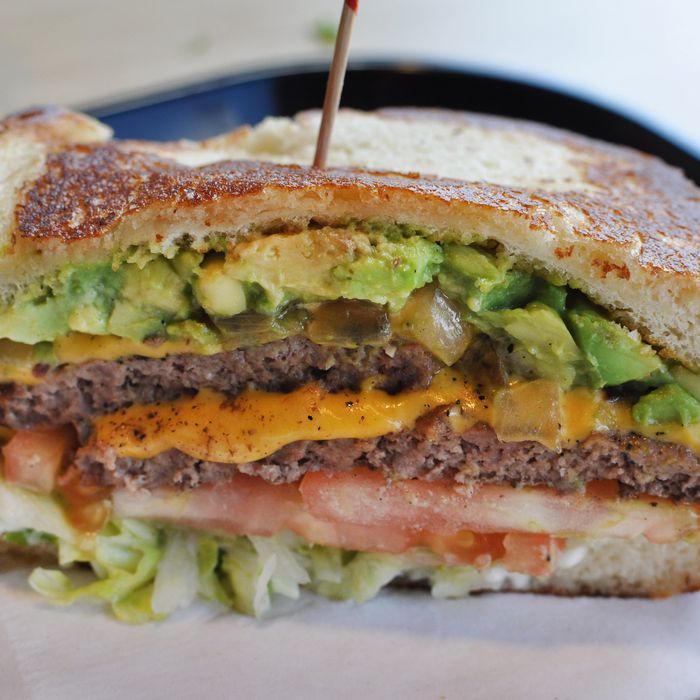 Could a Santa Barbara–style burger possibly be better than a Shackburger?
Photo: Hugh Merwin
Earlier this summer, a burger chain you'd probably never heard of unexpectedly nabbed top honors in a Consumer Reports burger-chain survey, besting Five Guys, Steak 'n Shake, and even the West Coast's much-vaunted In-N-Out. In fact, the winner was another California creation: Habit Burger, or "the Habit," claims to be a Santa Barbara institution, founded in 1969 and, at the moment, in rapid expansion mode. When I heard the first East Coast location just opened in New Jersey, I decided to trek out for lunch and see if this place's burgers were as outstanding as I'd been led to believe. In retrospect, I probably should have just gone to my nearest Shake Shack.

After gassing up the car, reaching the Bronx in 20 minutes flat, and then crawling across the GW Bridge for 25 excruciating more, I navigated the suburban barrens and endless stretches of car dealerships of Bergen County to find the restaurant, which opened last month in a suburban complex called the Fair Lawn Promenade, built on the site of an old Eastman Kodak facility. It was a Sunday, but the place was bustling at 11 a.m., just after opening.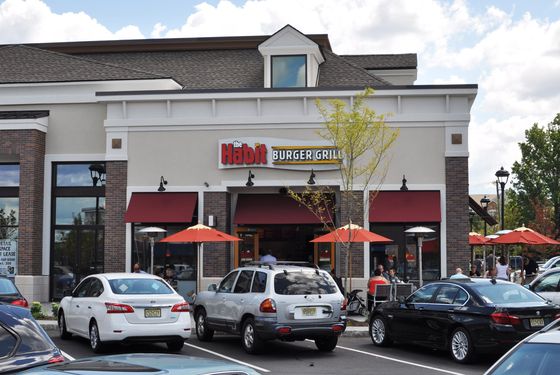 Everyone in line was talking about the Original Double Char, an ad for which is conveniently posted on the door. This burger is a big deal: It made the 10 o'clock news, and at a cost of $4.80, it's almost $2.50 less than a comparable model at Shake Shack. It's also $2 cheaper than the cheeseburger at Five Guys. (Habit Burger's subcompact Original Charburger, with a single patty, is even less expensive.)
After ordering, I was handed a standard-issue vibrating pager that would buzz when my food was ready. But after I paid, a screen next to the cashier lit and displayed the following message: "Don't forget to visit our pepper bar!" I did not forget, and in fact, the pepper bar does not disappoint. The self-service area is stocked with jalapeños, peperoncini, and pickled banana peppers along with a variety of hot sauces.
The open kitchen was frenetic, resembling a racetrack pit stop with fast-food: Eight cooks efficiently worked the grill to assemble orders in components. A manager supervised the flow while pouring Hood milk into the milkshake mixers. A friendly girl bounced around the dining room, asking guests if they needed anything else while wiping down newly vacated booths.
But I wasn't there for cheerful service or pepper bars. I was there to eat the burger that bested In-N-Out in a national taste-off. So, here's the Double Char. It's swaddled for display like a Shack Burger, with a bit of everything peeping out a little as a kind of showcase. That lower tier of iceberg lettuce accounts for maybe 20 percent of its total height.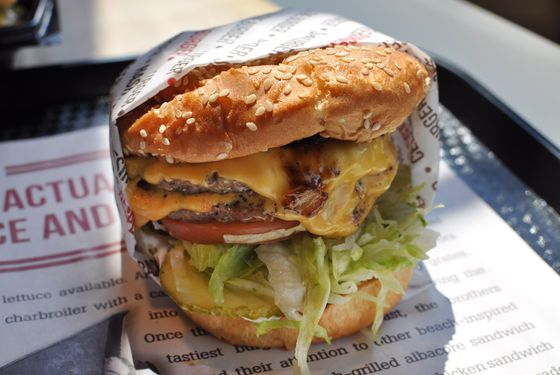 I also ordered the Santa Barbara-Style burger for the sake of comparison: It's two grilled patties, cheese, avocado, lettuce, and tomato. Instead of a proper bun, it's all served on grilled sourdough and comes with a few delightfully anachronistic flourishes.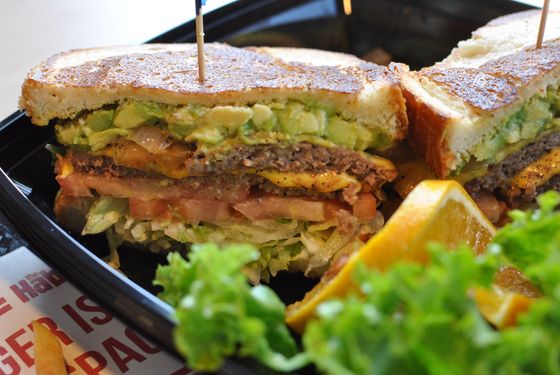 Look closer. When was the last time you got a burger that came with a twisted slice of orange on the side?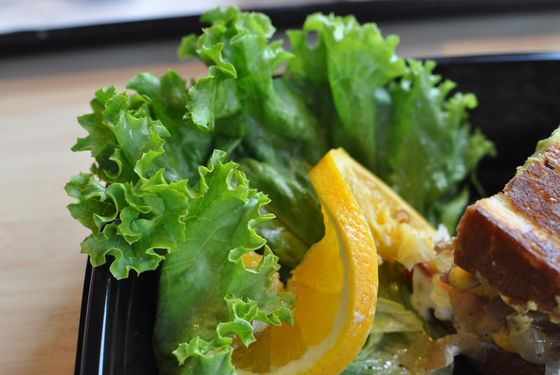 I can appreciate a frilly garnish, but sadly, the beef — the most promising aspect of the Consumer Reports survey —  was an issue with both burgers. The patties used at Habit Burger are small — three ounces — and are aggressively seasoned with salt, pepper, and garlic powder, but those things aren't the problem. The meat is lean and overworked, so the burgers were gray, stiff, and dense. There's a reason old-school hamburger academics prefer more loosely packed, coarsely ground patties smashed on a hot griddle, so as to maximize Maillard-reaction-crispness. The method results in a more consistently delicious burger. That's not to say flame-grilled hamburgers are bad; they're just harder to pull off.
The Habit's didn't work for me. Here's the Santa Barbara burger's patty. Those with gentle constitutions may wish to look away.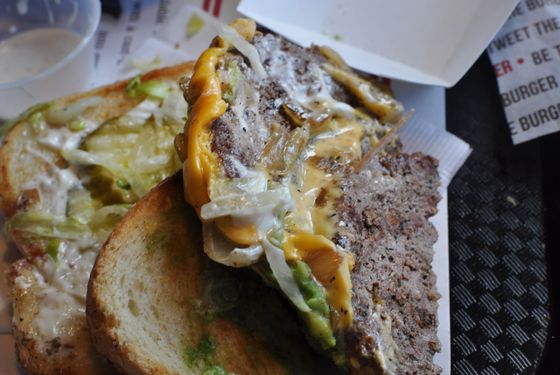 As for toppings, American cheese and caramelized onions were as effectively flavorful as ever. But the avocado on the Santa Barbara burger ranged in texture from soft to mushy. So, as you eat, the bright-green sludge squeezes past your fingers faster than a stomped-on tube of toothpaste.
The fries were another letdown. Though they were promisingly served in a paper boat bearing the slogan "There's no substitute for quality!" these fries were brittle and tasted as if they had been adrift on the surface of a deep-fat fryer for too long. The $1.95 price tag was appealing, but their cafeteria-esque flavor was not.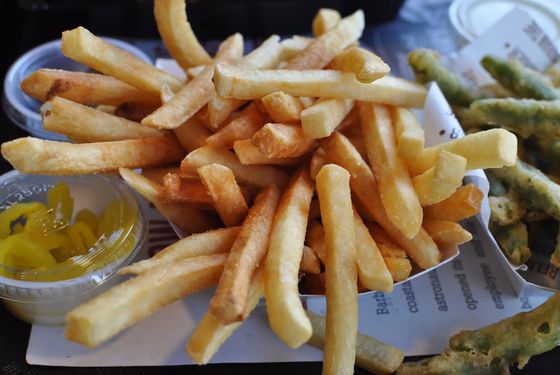 As I got back into my car, disappointed in everything except the milkshake I was finishing, I noticed a wrapper had flown off one of Habit Burger's outdoor tables and onto my windshield. "Season the burger," it implored. "Love the burger. Hashtag the burger. Be the burger. Crave the burger." There was, however, no command to actually eat the burger.
A second Garden State location is scheduled to open by the end of the month, reps say, and while the chain's chief marketing officer says there aren't any plans to open in Manhattan just yet, he tells us that the Habit is "constantly looking for locations" in New York and New Jersey. If the chain is really going to take over the East Coast, they might want to spend more time on perfecting their patties, too.
Earlier: Burger Chain No One's Ever Heard of Takes Top Honors in National Survey