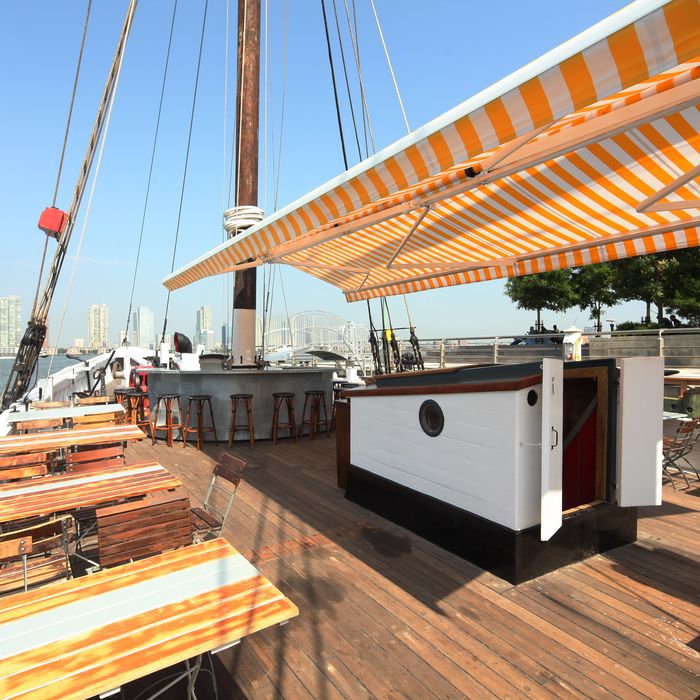 This boat is going on hiatus in one months' time.
Photo: Melissa Hom
New York's premier oyster bar on a boat will batten down the hatches and do all kinds of other nautical things right after October 31, when the Sherman Zwicker goes on hiatus for the colder months. Partners Mark Firth, Adrien Gallo, Miles Pincus, and Alex Pincus say there are some renovations planned for the historic fishing schooner, which has been docked in Tribeca all summer, so it'll sail up the Hudson. For the final few weeks, however, they're adding an oyster happy hour and some new dishes.
Beginning October 1, oysters from the waters surrounding Long Island (as well as other East Coast specimens) will cost $1 each from 4 to 6 p.m., Mondays through Thursdays. Additionally, while Grand Banks's excellent lobster roll is still on the menu, the tiny kitchen below deck will start turning out the floating restaurant's very first bowls of chowder as a seasonal small plate. The soup is loaded with cod, chorizo, chopped quahogs, and fingerling potatoes.
Finally, because the nights are turning brisk and customers' hands will inevitably be chilly, the bar will add a classic toddy made with hot aged rum, sweetened ginger, honey, lemon, clove, nutmeg, and cinnamon — all good things. The drink will be available starting Wednesday; Grand Banks will return to the city next Spring.

Related: Grand Banks's $25 Lobster Roll Is Absolutely Worth It
Related: Take a Look Around Grand Banks, NYC's Premier Oyster Bar on a Boat