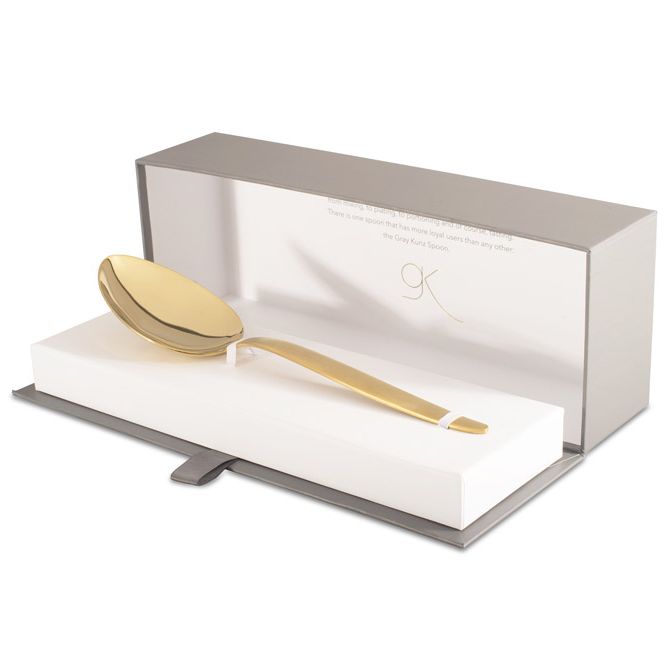 Talk about gold-plating!
Photo: Courtesy of J.B. Prince
If you follow any chefs on Instagram or Twitter, you may have noticed a recent uptick of photos depicting this gold spoon, gleaming in its luxury presentation box like some sort of fairy-tale flatware. The limited-edition Gray Kunz Spoon is a 20th anniversary edition of perhaps one of the most underrated and universally used pieces of cooking equipment deployed by professionals, and now everyone from Danny Bowien of Mission Chinese Food to Underbelly chef Chris Shepherd seems to be stocking up on the gilded version. It was released last week and retails for $39, and its popularity has a lot to do with the guy who created it.
Gray Kunz, who helmed Lespinasse and Café Gray, has long since left New York — he was in Hong Kong last time we checked — became something of a legend among culinary professionals: a supremely talented chef who was seemingly disregarded by the dining public after winning everyone over with his food. ("He struck me as the first European-trained chef who really understood Asian ingredients, not just as an accent, but innately," Ruth Reichl said. "You can't learn this.")
His entry-level sauce spoon, which started selling in 1994 as the ideal instrument for plating and delicately handling ingredients in a pan, for example, is now used throughout the country in finer kitchens everywhere, sometimes by the dozen. Kunz spoons handle everything from humble sausage and grits to flipping fish filets sizzling in brown butter. The new one has elicited a pretty strong reaction.
All gold everything pic.twitter.com/CpCf3pz5pf— james daniel bowien (@dannybowien) September 3, 2014

Repeat this to yourself: "I do not need a gold kunz spoon" @jbprince— Jeffrey Stoneberger (@Eatmecookme) September 8, 2014

New spoons excite me http://t.co/ts2LzCDh7f— johnny spero (@johnnyspero) September 9, 2014

Some chefs are, of course, a no-go on the gold Kunz spoon.
Kunz spoon upgrade I'd actually want: an included tracking device for when your 7th Kunz spoon inevitably gets stolen like the first 6 did— Lazy Bear (@lazybearsf) September 4, 2014

Sorry, I like spoons as much as the next guy, but the phrase 'gold kunz spoon' is marketing speak for 'sucker (chef) born every minute.'— Michael M. O'Connor (@solarfish30) September 10, 2014

I'll pass on the overpriced, spray - coated gold Kunz spoon. Hit me up when they start bedazzling them.— Brandon Baltzley (@BrandonBaltzley) September 4, 2014

Regardless, going to J.B. Prince to stock up on the Kunz spoon has become something of a rite of passage. That there's now a gold one that's gold PVD-coated, which has something to do with the condensation of gold into a vapor in a vacuum, gives the spoon an even broader continuum and adds to the legend. Plus, it's more durable than regular old electroplating, and it apparently goes through the industrial dishwasher just fine.
Gray Kunz Spoon Limited Edition (Gold) [JB Prince]