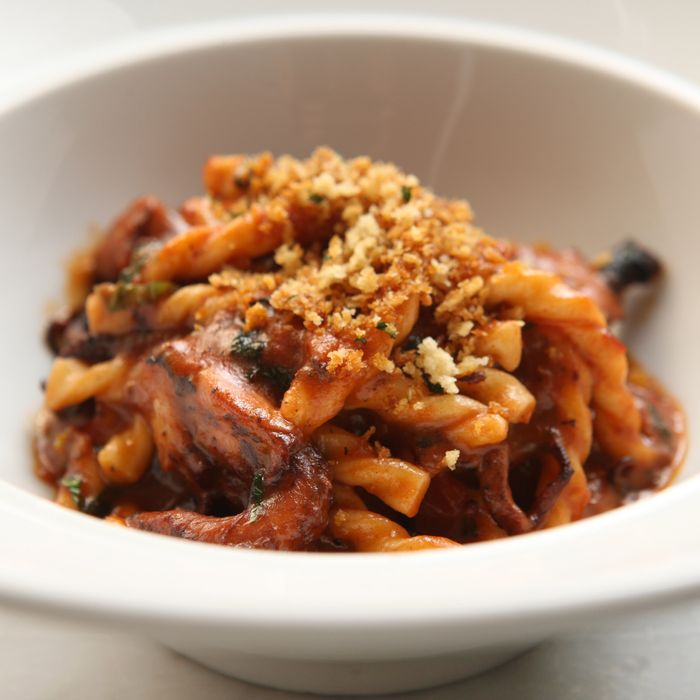 The work of many people.
Photo: Melissa Hom
If you've been following our intrepid investigation of the Fusilligate scandal, you, like us, have undoubtedly been struggling to make sense of the jumbled facts and contradictory statements. A quick recap: (1) In a recent New Jersey Monthly interview, Chris Cannon explodes the bombshell that Marea's renowned fusilli with red-wine-braised octopus and bone marrow was not the masterwork of Michael White, but of former L'Impero and Alto chef de cuisine Kevin Sippel, who is now the chef of Cannon's Jockey Hollow Bar & Kitchen. (2) Marea executive chef Jared Gadbaw, in describing the origin of this mouth-waterer to Eater, says the inspiration came from an octopus ragu he and White tried on a trip to Campania. When they returned home, they made their own version, but it wasn't until a mysterious unnamed kitchen grunt added bone marrow to the sauce that they knew they had something hot. (3) White tells yet a different story to First We Feast: The dish came about serendipitously as a family meal at Alto, but he doesn't say who made it. Now, after grilling the suspects individually, we're happy to report that we've pretty much cracked the case.
Cannon is standing by his story, elaborating thusly: "Sippel created it as a pasta special at Alto in the format of a ravioli," he says. "He was told not to serve it as it was not "Italian" enough. Subsequently it was changed into the dish it is now by Gordon Finn, who took over at Alto. All the base components were the same except the pasta."
White, through his rep, corroborates Gordon Finn's role. "The dish's first inception happened at Alto," says the spokeswoman. "Michael even gives credit to Gordon in his most recent cookbook."
The final word, though, goes to Kevin Sippel, who seems a bit appalled by our having dredged up the whole sordid affair, and sets the record straight as follows:
I did not create the fusilli with octopus dish. I did have a dish, as Chris mentioned, which was a squid-ink caramelli pasta that was stuffed with braised octopus and bone marrow and finished with sea urchin [which, by the way, sounds fantastic!] that I ran on the tasting menu between the time of Scott Conant's departure and Michael's arrival [at Alto]. If it inspired other cooks to create a better dish out of it then that is great, because that's how the kitchen works. I do the same thing. We all look for inspiration, and I give zero fucks about that dish. At the end of the day, it's a bowl of pasta; we didn't discover the Higgs Particle.
In case you were wondering, Sippel will not be serving his caramelli pasta, or anything like it, at Jockey Hollow. But he does have several other pastas planned for both the casual oyster bar and the more refined dining room, including a lobster raviolini with Jasper Hill's Harbison and cider vinegar that, in its brazen flouting of the Italian no-cheese-with-fish rule, sounds fairly inspirational itself.
Earlier: Fusilligate: Who Really Created Marea's Famous Octopus-and-Bone-Marrow Pasta?