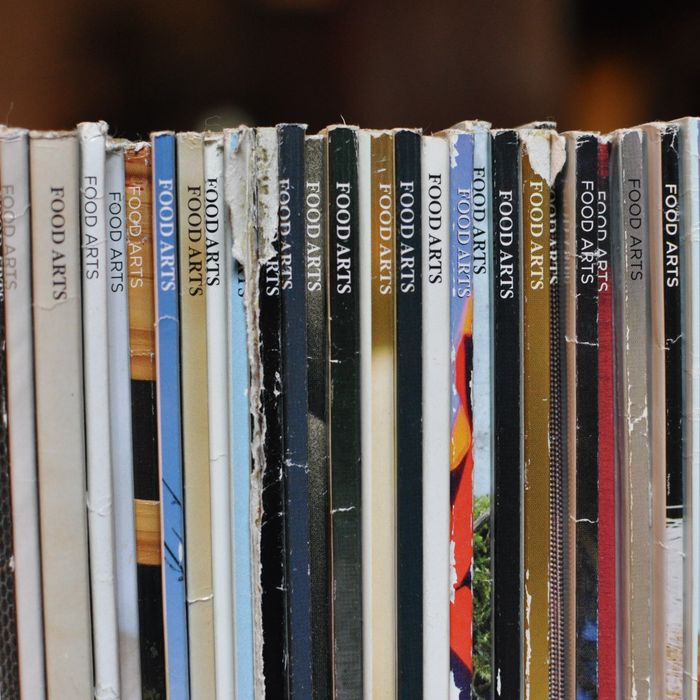 Like a lot of people who follow restaurants, I'm upset that Food Arts magazine announced this week that it would cease publication. Much as Gourmet billed itself "the Magazine of Good Living," Food Arts was "at the Restaurant and Hotel Forefront." It was right there on the cover, and it was true. Ariane and Michael Batterberry — who founded Food & Wine in 1978 and grew it to a subscriber list of 250,000 within two years — began Food Arts 1988, and unlike its ad-filled peers, the trade publication quickly became a vital chronicle of what chefs were doing around the world in a pre-internet age.
Sometime around ten years ago, I was sitting at the bar at Will Goldfarb's dimly lit Room4Dessert on Cleveland Place. The food writer Bill Buford was hanging out behind the post-postmodern dessert bar while researching what ultimately became Goldfarb's New Yorker profile. That night, Buford was talking up the antics of medieval French chefs, something he had recently read in an old, old book. He mentioned a dish where a goose that had been plucked alive gets lulled to sleep in the kitchen and made over to look roasted, only to come back to life during the banquet and hop off the table to freak out and amuse the royalty. It was totally obscure.
"Oh, I just read about that in Food Arts," one of Goldfarb's cooks said, and then they launched into a chat about the odd subculture of culinary trompe l'oeil like it was nothing. Buford said he'd have to seek the magazine out.
Though this sort of deep excursion into culinary history made its pages less frequently, this is what Food Arts was: a safe space for food writers and industry professionals to geek out and put forth what they loved, whether it was about ideal brix content of pomegranate molasses, the ideal convection oven, or the ultrafermented flavor of natto. The magazine consistently exposed chefs, cooks, and restaurateurs to something they'd never heard of, or something that had been alluded to in old books or at culinary school. It was a magazine that proudly didn't try to appeal to the masses. (It was also rarely available on newsstands, not surprising since its covers tended to feature things like close-ups of heirloom pigs, artfully arranged sardines, or two spoons filled with pork blood.)
No other magazine in print would run 2,000 words on the odyssey faced by artisanal bakers who choose to travel with their precious sourdough starters rather than let them perish, first getting the oozing jars through TSA and then feeding them in lonely motel rooms. It asked Anthony Bourdain, pre-Kitchen Confidential, to file something on the opening of Brasserie Les Halles in Tokyo. He turned in a nearly 5,000-word gonzo masterpiece, filled with pre-millennium jet lag and references to things like Apocalypse Now, super-fatty toro, and Krispy Kreme. It put women chefs on the cover decades before Time magazine's "Gods of Food" debacle, like it was no big thing. It wasn't, for Food Arts.
It kept tabs on the young Charlie Trotter, who maintained spreadsheets to ensure no regular dinner guest would get the same dish twice. It reintroduced the various Technicolor terrines and foie gras tourtes made by Jean-Louis Palladin — the vastly influential French chef who died in 2001 — to the Top Chef generation; and in 2006 the magazine brought New Yorkers the story of Daniel Humm, a baby-faced chef who had big plans for a place called Eleven Madison Park.
Yet the magazine itself may as well have been written in chef code, which is perhaps why even as it continued to consistently identify trends before they became trendy, it never really developed a broad appeal outside the industry. Why would it? If you're just looking to know the best way to make kale for dinner, you probably don't need to know how much easier life can get with the new Vac-Star easy vacuum sealer. Still, for the subculture of people who do want to know things like that that — and all of the other deep culinary coverage that any issue of Food Arts promised within its pages — the news of the magazine's loss feels quite grim indeed.