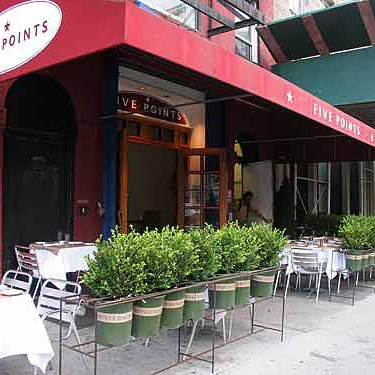 Ch-ch-changes.
Photo: Youngna Park
Yet another example of a restaurant redo: Vicki Freeman and Marc Meyer tell Grub that Five Points in Noho, which closed for a revamp in August, will reopen as Vic's in early October. Chef Hillary Sterling — an alum of A Voce, Lupa, the Beatrice Inn, Bar Bolonat, and most recently, Corkbuzz Chelsea — will cook a rustic Italian-Mediterranean menu.
This is big news, considering Five Points has been open for 15 years and has become pretty much synonymous with "New York brunch." Meyer and Freeman, who also own Cookshop and Hundred Acres, are pioneers of the cross between neighborhood restaurant and serious kitchen, and they opened a "farm-to-table" restaurant long before it was trendy.
Sterling has bounced around between jobs — and often been overshadowed by her partners and mentors, like Missy Robbins and Einat Admony — so it's nice to see her land a prominent executive-chef gig. (In his two-star review of the Beatrice Inn, Adam Platt wrote of her cooking, "It's not clear whether the yammering masses who now patronize the Beatrice are aware of the level of Sterling's cooking, but who cares?") Stay tuned for how she'll transform the New York institution, but — spoiler alert — her new menu will include pizza.
Related: The Very Delicate, Incredibly Tricky Art of the Restaurant Redo