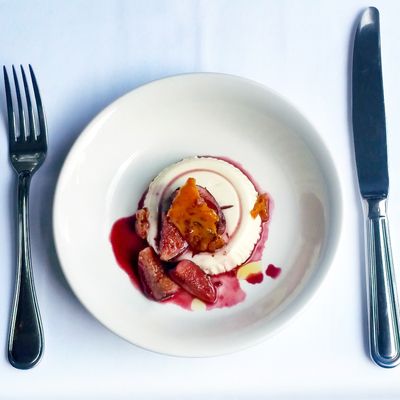 Fig-spiked crème fraiche panna cotta at the Clam.
Photo: Courtesy of the Clam
The (almost) end of summer does carry one great perk: the start of fig season. And while the phrase "figs on a plate" may still carry a slight stigma, the appeal of this fruit when it's perfectly ripe — soft but not mushy, sweet enough that it constitutes a dessert on its own — is easy to understand. And as New York chefs know, figs also taste great with savory pairings like duck, prosciutto, and soft cheeses. Grub's advice: Check out these exceptional fig-focused dishes, ranging from savory to sweet, before the season's over.
Cherry Tomatoes
Where: Estela
Price: $16
Ignacio Mattos has remixed his cherry-tomato dish to include figs, dried shrimp, garlic, Grenache vinegar, and olive oil.
Blood Pudding
Where: Contra
Price: Part of $55 tasting
The first course in the current iteration of the tasting menu is a blood pudding that's cooked in fig leaves, and paired with tiger-striped figs, sorrel, arugula, and torpedo onions.
Duck Breast
Where: Bâtard
Price: Part of tasting menu (two courses for $55; three for $65; four for $75)
Critics agree that this restaurant's a massive hit — hard to go wrong, but it's a good move to choose the duck, with black-mission figs, a mushroom crêpe, and duck-liver mousse.
Farro Salad
Where: Dimes
Price: $12
Dimes has a few fig dishes on its dinner menu: a farro salad with spiced eggplant, feta, olives, pickled currants, and figs; a cheese board; and a market-greens salad with celery, feta, figs, and a celery-seed vinaigrette.
Ajo Blanco Con Calamar Brevas
Where: La Vara
Price: $13
Over in Cobble Hill, you'll find a white-almond gazpacho with figs, squid ribbons, and huitlacoche.
Ember-Cooked Duck Breast
Where: Aldea
Price: Part of the $125 tasting menu
Duck pairs well with the sweet fruit, but George Mendes's dish actually includes pickled figs — as well as yellowfoot chanterelle mushrooms and red wine.
Quail With Fig Jus
Where: Cherche Midi
Price: $22
Chef Shane McBride pairs spice-rubbed quail with creamy polenta, spigarello, fresh figs, and fig jus. Fall, in a dish.
Foie-Gras Pops
Where: élan
Price: $4 each
David Waltuck has resurrected one of his signature Chanterelle dishes for his new restaurant: fig-centered foie gras popsicles rolled in crushed pistachios. Adult candy.
Black Mission Fig & Bacon Sandwich
Where: Num Pang
Price: $8.50
The new fall sandwich includes fresh figs in a sweet-and-spicy apple-cider glaze, honey, chile powder, crisp bacon, sautéed scallions, alongside the signature pickled carrots, cilantro, cucumbers, and chile mayo. It's available starting tomorrow.
Autumn Fruit Plate
Where: The Dutch
Price: $12
Pastry chef Summer Bailey just added a new dessert to her menu: California figs with plum sorbet and marscapone.
Ricotta Bruschetta
Where: Bar Primi
Price: $7
Here's a classic pairing of ricotta cheese, crusty bread, figs, and Sardinian honey. Sal Lamboglia also serves a prosciutto plate with figs for $19.
Gently Roasted Very Local Figs
Where: Delicatessen
Price: $13
This Soho restaurant actually has its own fig tree, which was planted in the 1940s when the restaurant was known as Buffa's Diner. It's now in bloom! This simple dish consists of a crostini, whipped Di Palo's ricotta, honey comb, ricotta salata, basil, and super-fresh figs.
Crème Fraiche Panna Cotta
Where: The Clam
Price: $9
Chef Mike Price roasts figs in thyme and sugar, and deglazes them with port wine, which he reduces until it's smooth and syrupy. He uses it as a topping for panna cotta, along with roasted figs and a sprinkle of bacon brittle.
Figs With Olive-Oil Ice Cream
Where: Public
Price: $10
This Nolita restaurant keeps dessert simple: fresh figs with olive-oil ice cream, lemon croutons, and honey yogurt.
Grilled Adriatic Figs
Where: Xixa
Price: $9
At this Mexican restaurant in Williamsburg, figs get split and grilled skin side down, until the insides are warm and bubbly. They're then placed atop orange-infused Greek yogurt, and topped with smoked sea salt and spicy honey.
Salted Honey Pie
Where: Meadowsweet
Price: $9
Pastry chef Jared Rubin adds roasted figs, Roquefort ice cream, and a saba gastrique to his pie.
Related: What You Need to Eat and Drink Before Summer Is Really Over