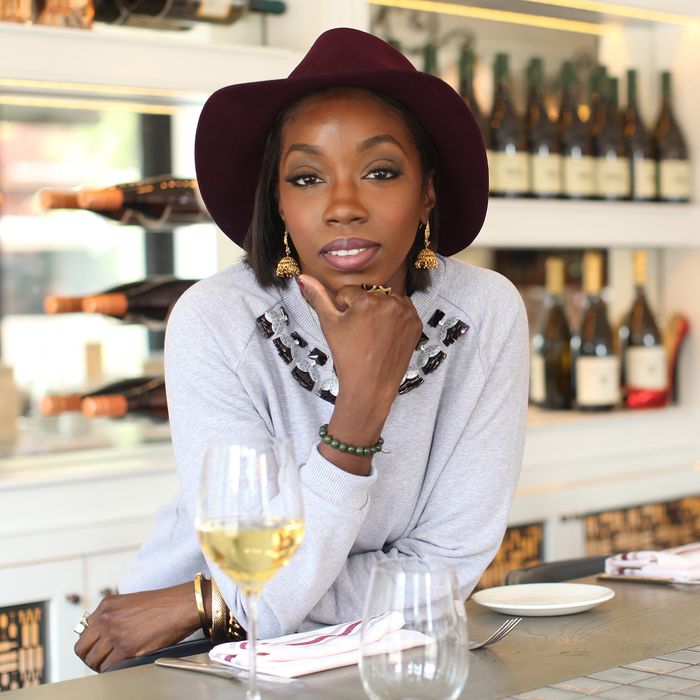 " … I had a rosé wine, and a smoothie with alcohol. It was great."
Photo: Melissa Hom
"When I cook, I like to eat properly," says British songstress Estelle. "And I'm really set about making it from scratch." Even though the Grammy Award winner — who won American fans over with her single "American Boy," featuring Kanye West — has been busy hitting multiple shows for Fashion Week and promoting her upcoming album True Romance (out November 4), she still made time for home-cooked meals this week — as well as many, many doughnuts. Read it all, and learn what Diane von Furstenberg serves at an after-party, in this week's Grub Street Diet.
Friday, September 5
I landed late in Atlanta and was hungry as hell. Airport snacks consisted of white-fudge-covered pretzels — Flipz — that always make me feel like I'm eating a cake.
I was staying at a friend's house at the edge of the city, where there were few options for food. We Googled places and came up with a Kroger's, but on the way to find something to munch on, we drove past Delia's Chicken Sausage Stand.
Now, if you don't know Delia's, it's related to the Flying Biscuit Café. Flying Biscuit is a known spot in Atlanta that does a real breakfast: a big ol' plate of pancakes, or biscuits and sausage, or whatever you want to eat. You have breakfast there, and you won't need to eat for half the day. So we drove past, and first, I wasn't sure about it, but then we went in and I saw the Flying Biscuit cookbook, and I was like, "Oh, we're fine, let's eat here." Delia's won. I had the "Sloppy Sliders" mini-sliders, made of chicken sausage. And wedges. Oh, and sleep. It was wonderful.
Saturday, September 6
Today was a "you've got to eat something for breakfast because you're going to drink all day" kind of day. I was in Atlanta on a promo trip with Banfi wines and Rosa Regale, and we were spending the day with contest winners and fans as they got pampered in a spa. At about 10 a.m., I had maple-syrup oatmeal. I don't normally like to eat oatmeal, as it gives me the bloats, but I needed energy.
My job at the event was to walk around and make sure everyone was having fun, but the first thing they do when you walk in is hand you a drink. At points, I had different cocktails in each hand. So I had fun, too.
I recorded half my album in Atlanta, so I'm a frequent visitor, and when I'm there, I always make sure to get some Chik-fil-A: It's the home of the chain, so I make an allowance for some fast food. Always get the chicken nuggets (with all the sauces), but this time, for lunch, I went with the healthy option, the grilled burger, which came on a multigrain bun. It was good. It was different.
I spent the whole day with the fans. It was real. Dinner was at STK, where I had a green mesclun salad, steak, and corn pudding, and some Georgia peach cobbler. Then we partied the night away, first at Frank Ski's, where Frank, who is a good friend of mine, gave me some wine tips, then to a place called the Boogalou Lounge. It was crazy because the the DJ there was someone I hadn't seen in 17 years — since I was a teenager in London. He used to be a rapper and we used to be in the same scene. He played some of my old records and the fans were like, "You were rappin'?" And I was like, "Yeah!"
Sunday, September 7
Two hours of sleep, then back to NYC. Breakfast was nectarine juice. I was going to the Diane von Furstenberg fashion show and needed to keep my sugar levels up and carbs low. Or something. Who knows. I was in a rush, as usual.
Lunch was a typical British sandwich: cheese-and-Branston-pickles on bread with butter. Any Brit reading this knows cheese and pickle sandwiches. It's a good, quick snack, and vegetarian. You don't feel overstuffed, but you feel like you ate something with salt and sugar in it. I had it with PG tips tea with milk and sugar. All carbs everything.
Dinner was provided by Diane von Furstenberg at a party in her apartment. She brought out real food, because she knew nobody had eaten all day. It was healthy and filling: vegetables and quinoa, quiche Lorraine, and asparagus quiche. Not just lettuce! It was like, "This is why we love her." Desserts were meringue pies and mini-macarons, and to drink, I had a rosé wine, and a smoothie with alcohol. It was great. It had a little flower in it.
Monday, September 8
I don't have any sort of breakfast routine. I just try and make sure that when I do eat, the first thing I eat isn't a doughnut. But today, the first thing I ate was a doughnut. And juice. From Dough in Brooklyn. It's pretty awesome: They have a selection box with flavors ranging from lemon and poppy seed to raspberry icing. You have a little bit of each, then you leave it there, and then you have a little bit more of each.
I had a run of fashion shows,and came home hungry as a cow, so I made some fish and grits. Grits are relatively new to me. Because when people talked about it, it sounded like what we call farina back home, and I used to be like, "I'm not eating porridge with chicken. Nope. Uh-uh. What does that mean?" Then, a year or two ago, I had it at an event, and I was like, "Oh, these are grits. This is good!"
I coated pre-seasoned tilapia in cornmeal and breadcrumbs, then shallow-fried in a skillet. I had it with cheese grits and onion and tomato gravy. Sometimes eating out is overrated.
Tuesday, September 9
Today, I had a long day of work starting at 6.30 a.m. at Good Day New York. They had a spread there, fruits and bagels and stuff, but there's a whole slew of foods that I was told I can't eat in the mornings when performing, like coffee or citrus, which gives acid reflux, or anything with real milk, which coats the vocal cords with phlegm. So I had gum and water and throat-coat tea, which is a licorice tea that helps me get my notes out.
I ran from the television show to a fashion show and then home, but not before stopping by Doughnut Plant and reupping on crème brûlée donuts. If you're gonna eat doughnuts again, do it fabulously. Why not?
At home, I made a quick meal of mushroom ravioli and white sauce, then it was back out to two more fashion shows. I noticed backstage at the shows that there's always plenty of water, but also plenty of Diet Coke. But here's the thing: Diet Coke is probably worse for you than drinking regular Coke. It's got less sugar — but the additives and replacements aren't healthy. But it makes me laugh because I was looking around, and there was more Diet Coke than water.
For dinner, I cooked lemon-pepper wings, adding honey so the seasonings stuck more. I had them with a baked potato and sautéed sprouts, red peppers, and mushrooms, and green tea ginger ale to drink, which is the best thing ever. You think you're drinking green tea and ginger ale when you're just drinking ginger ale with the flavoring in it. But it tastes good. It's the sugar.
Wednesday, September 10
This morning was so busy that I didn't have any time to eat. This is why I like to prep my foods to cook days ahead of time. It's faster. My friend once told me that I'm a therapeutic cooker: "You cook when you need to think." And I was like, "That's every day," and she was like, "Yes. You cook every day."
It's also something that I prefer to do rather than eating out all the time. I see that a lot of my friends either have health problems or they have weight problems or all that stuff and I'm like, "Stop eating out, you don't know what they put in it." If you cook, you can regulate what you're doing.
I went uptown to Barawine. I like it there because I get the feeling of being in the south of France, except it's in Harlem. And I really enjoy their fries and the cheese platter with rosé wine. The décor is brilliant and beautiful, too.
This afternoon, I have a video to shoot for a record off the new album called "Silly Girls." It's about the advice that your parents tell you that may or may not make sense. But you kind of do it anyway.