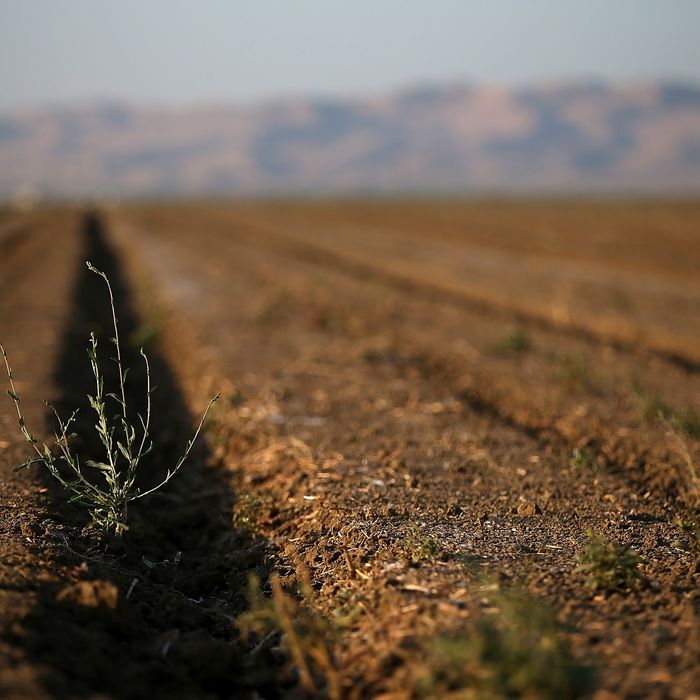 A California field, not growing almonds.
Photo: Justin Sullivan/Getty Images
As many continue to note, the almond craze is having unpleasant consequences in California in particular, where the demanding little nut is usurping water, harming fauna, and potentially wrecking the infrastructure. California is under a drought so world-historically bad that the state is considering adding a new level — D5 — to the four-tier scale to categorize it, but the almond is having a banner year anyway thanks to safeguards by the state, like ensuring 1.1 gallons of water for every gallon of almond milk produced. All said, it's surprising that Dunkin' Donuts chose now, of all times, to roll out an almond milk option in about 75 percent of its 7,821 stores.
Who knows, maybe almond-milk Dunkaccinos and Coolattas can muster excitement equaling the Cronut-worthy line over the holiday weekend for the grand opening of L.A.'s first location, but hit or flop, just stocking almond milk means a lot more demand. In fact, being out front on this one as the first chain to offer it nationwide is apparently all part of the Dunkin strategy to "differentiate themselves by staying on top of consumer trends." The brand will be Almond Breeze, in a vanilla flavor you can presumably mix into brewed coffee, blend into a frozen drink, or steam for lattes. No word yet on what additional cost it might carry, and in any case, the price you put on agricultural devastation is also up to you.
Related: Your Almond Consumption Is Killing California's Salmon and Honeybees