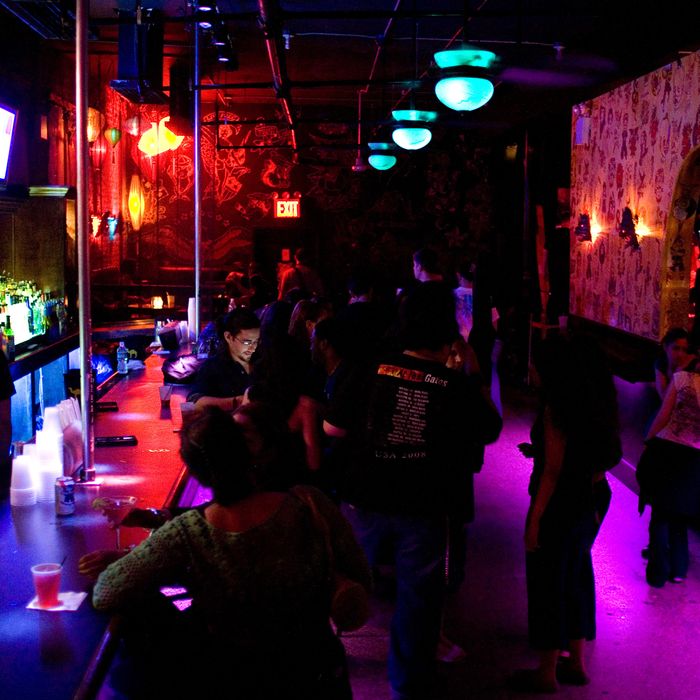 "We are here to keep NY real," the venue's proprietors write. But will it still be purple?
Photo: Konstantin Sergeyev
Details are scarce at the moment, but all signs point to a new operator mounting plans to revive Don Hill's — where a panoply of rock luminaries once played intimate shows, the '80s theme night ruled, and Courtney Love covered Lady Gaga and cursed everyone out —  at 511 Greenwich Street, its former home. The incoming proprietor will appear next week at a Community Board meeting to discuss operations at what's being called the Hills NYC at the one-story Soho building, which is owned by Tribeca's Ponte Equities.
From the looks of things, some of the grittier aspects of the old venue's sailor-tattooed walls remain. Don Hill's closed abruptly in April of 2011, eight months after nightlife figures Nur Khan and Paul Sevigny took control of the club's programming, and just weeks after proprietor Hill's sudden death at the age of 66. As the ever-present host of his namesake club, which opened in 1991, Hill was revered by an armada of New York nightlife and music figures. Michael Musto eulogized him as "a man who cared about rock and roll, his performers, and his audiences." At the time of its closure, Khan said that "the property offered a moneymaking opportunity unconcerned with preserving Don's legacy," implying that Ponte Equities was working a major redevelopment.
But that redevelopment never happened, and construction permits are now in place for interior renovations and "reconstruction." The Hills NYC first announced itself on Twitter in April, three years after Don Hill's last closure, and made its intentions clear. "From small cabaret shows to international awards, fashion shows, from intimate gigs to headline rock concerts and from banquets to seminars," its Facebook page description reads. Meanwhile, a notice on the incoming venue's site explains its aim in even greater detail:
Like a phoenix rising from the ashes, The Hills NYC was birthed from the iconic venue Don Hill's, which closed its doors for the last time in 2011. Reset, rebuilt and refocused, The Hills NYC is here to bring back Don's original vision of a legendary venue which showcases Rock and Roll icons and NY talent. We are COMING SOON! & We are here to keep NY real.
There you have it. While we're waiting on the rest of the details, it seems like we have the answer to one question: Yes, there are plans for an '80s night, too.
Related: Don Hill's Is Done
Related: Nightlife Legend Don Hill Is Dead at 66
[CB2 Manhattan]