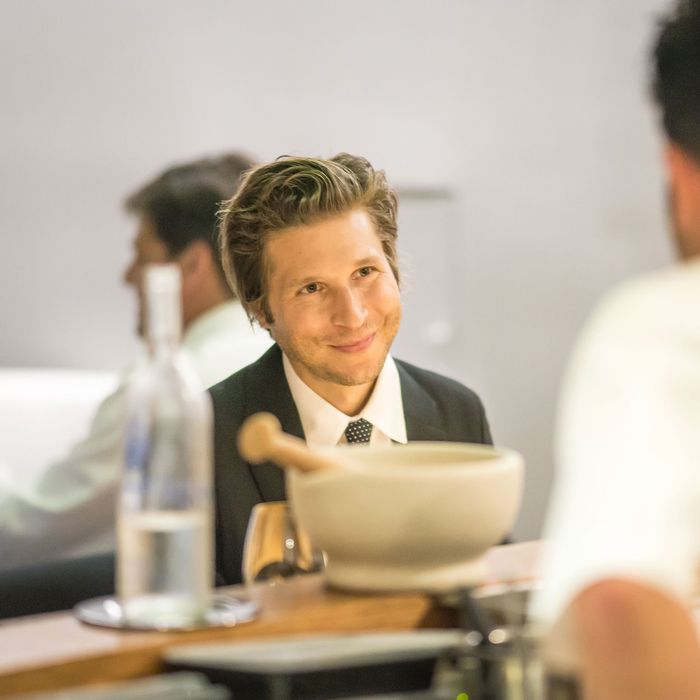 Kessler, talking with George Mendes.
Photo: Noah Fecks
"I'd rather do this than talk about music any day of the week," says Daniel Kessler, the guitarist for Interpol. We're sitting at the chef's counter of Aldea, George Mendes's 17th Street restaurant, and Kessler is taking a break from promoting the band's new album, El Pintor. For a dude who's in a band that's known for brooding, Kessler's enthusiasm for restaurants is almost surprising. While trying to schedule the dinner, he quickly offered a full index of restaurants he wanted check out: Bâtard, Contra, Sushi Yasuda, Racines, and élan among them. "I'm a little OCD about stuff," Kessler says. "So once something's on my brain I'm like, I must go and do. It's very Rain Man-esque."
Lest you doubt Kessler's affinity for food, know that, along with Ravi DeRossi, Kessler co-owns the seafood restaurant Bergen Hill in Carroll Gardens, with a Le Cirque alum in the kitchen (who incidentally is also a Top Chef alum, but that doesn't mean much to Kessler, who doesn't own a television). He has favorite restaurants from touring the world, and he's happy to share them: In Mexico City, it's Contramar. ("I could eat there three times a day. My friends there know — it's like taking your kid to McDonald's.") In London, it's Barrafina. ("I love to sit at the counter. It's bustling.") And in Paris, Aux Deux Amis. ("A simple, tiny little bistro. They serve small plates but you can just sit there and get cheese.") In Lisbon — appropriate, given Aldea's Portuguese slant — he tells me about going out with some guys from the National to a former monastery that had been converted into a beer hall with beautiful seafood.
We're sitting at Aldea's chef's counter, six seats overlooking the kitchen. Mendes is there. As it turns out, he's a big Interpol fan — a front row, right-up-in-the-action kind of fan who most recently saw them play a few years back in Washington Heights. Later, they'll exchange emails, Kessler promising tickets next time he plays New York, Mendes returning the favor with a copy of his upcoming cookbook. But first, it's time to eat. The meal starts with an amuse: coconut meringue with gin-and-lime granita. Kessler asks about the green shavings on top. Lime zest.
There's a little more lime in our next course, corquetas de bachalhau. "I usually don't like croquetas," Kessler says. "But these look great." He takes a bite. "Reminds me of Lisbon."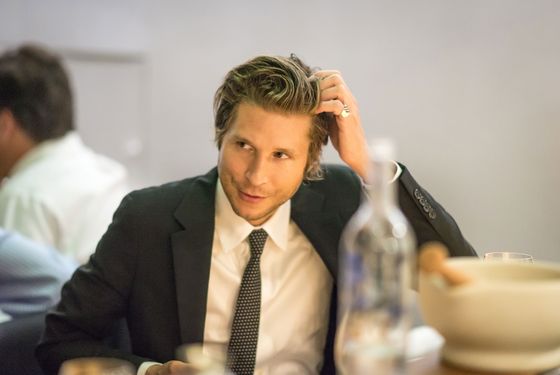 Kessler's interest in food is actually somewhat recent. Growing up, he says, he was afraid of venturing into the unknown. "It was a real fear. Like, what's going to happen if I eat this?" At the age of 20, without a taste for meat and, doing as people in college do, he became a vegetarian. A few years ago, he reintroduced seafood. "Now it's funny, with, like, omakase," He says. "It's like: give me your worst." At this point, he's even eaten moss, at Noma*.
At Aldea, Kessler has been looking forward to the sea urchin toast — he'd heard amazing things. That's followed by a dish of cucumber, strawberry, and smoked sardine. Kessler takes a bite, savoring. "I'm kind of a sucker for sardines." Octopus is next, and Kessler is disappointed to learn that I didn't try the octopus during my last dinner at Bergen Hill (it's a favorite of his, so I agree I'll go back and get it). Then Mendes sends out shrimp alhinho, an Aldea staple of plump, fresh fish in aromatic garlic sauce. It's outstanding. "I'm glad you wanted us to try this," Kessler tells Mendes.
At the counter, Mendes serves and explains the courses, talking diners through his kitchen's work. That this is essentially a performance isn't lost on us. At some point in the conversation, Kessler tells me that when he's playing onstage, everything around him is usually a blur. I ask him what he thinks of the inevitable comparison between chefs and rock stars. He's careful with his answer. "There's a commonality," he says. But he does see a difference in approach between what he does and what Mendes does. "First you have to say, 'I'm doing this for me and if I'm satisfied hopefully other people will like it.' But chefs, while obviously they have to create things that they think are special and unique, it really depends on the kitchen and the place. Right?"
I throw out more questions. I ask what the Met had in their green room when Interpol played the Temple of Dendur the previous night. He laughs. "It was a good spread. I think they make their own hummus." I ask about his rider on tour: Irish whiskey, Tullamore D.E.W, and dark chocolate, Green & Black, his preferred brand because you can pretty much get it anywhere.
The conversation winds down as dessert arrives: small, flaky custard tarts that make Kessler's eyes light up. "I love these things. When I was in Lisbon, I was doing room service and asked for one of those guys on the side. And I got one, and then I was like, I wish I asked for two."
I take a picture of the tarts — not a usual habit, but I need at least one thing to remember the meal by. I ask Kessler if he ever feels the need to take photos of his food. "I try not to. I really feel like you have to be in that moment. It's like at concerts — I really have no objections to people filming. But then sometimes I'm like: Are you really gonna film the whole thing?"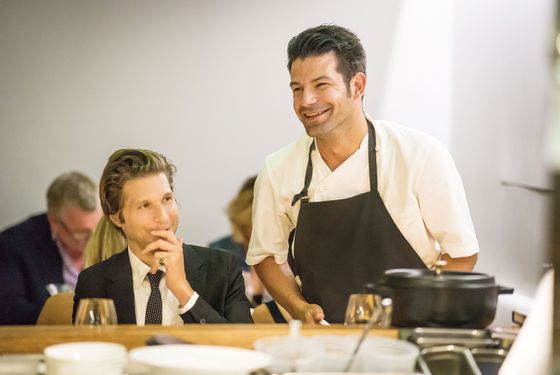 *This post has been corrected to show that Kessler ate moss at Noma.