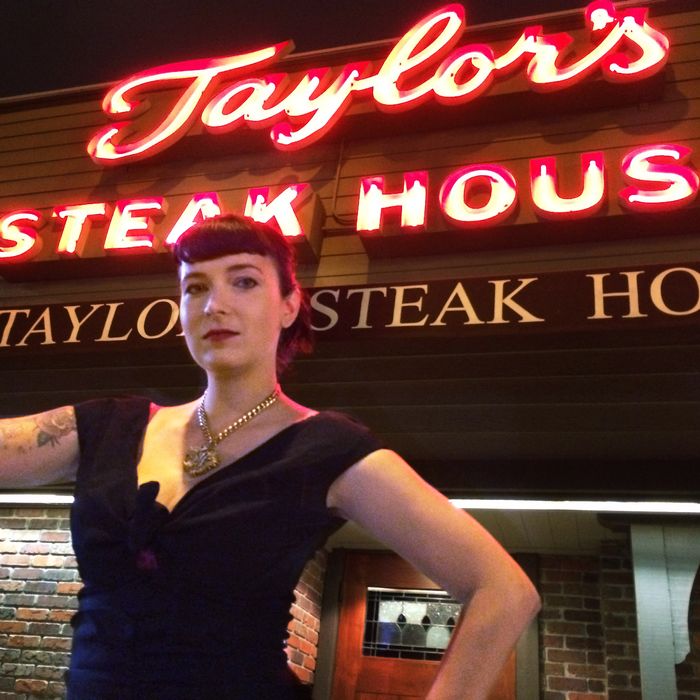 "I turned into Doughnuts McCigarettes the second I left for college."
Photo: Daniel Maurio
Diablo Cody maintains one important rule for eating: "I subscribe to the Nicki Minaj philosophy of nutrition," she says. "I ain't missing no meals." The director and Academy Award–winning screenwriter adds, "I love food and booze and have the party pudge to show for it." While Los Angeles–based Cody makes a point to keep things a little more wholesome when she cooks for her family, this week, she still managed to polish off a couple Midori Sours at a wrap party ("it seemed funny at the time), hit Five Guys for lunch, and attend a dinner party where the food was so good, it actually made her feel guilty. Read it all in this week's Grub Street Diet.
Wednesday, August 27
Today I woke up and had my usual two cups of coffee with whole milk. Then I made a Raw Meal shake in the blender. A healthy friend of mine introduced me to this stuff. It tastes like complete ass, but I usually blend it with coconut milk and a little frozen pineapple for a taste of the tropics. Tropical Ass Remix.
After breakfast, I had to go to the ophthalmologist. I came home with my pupils dilated to the size of Frisbees and snacked blindly on some trail mix from Target. (Those giant tubs of Archer Farms goodies are my downfall; I would probably eat dead wasps if you tossed them with chocolate chips and dehydrated papaya.) I couldn't see very well, so I was just shoving trail mix into my mouth and making a mess like Patty Duke in The Miracle Worker.
Around 1 p.m., my brother suggested we get Five Guys for lunch. I'm very suggestible. I had a junior cheeseburger with pickles and mayo, a modest pile of fries, and a vanilla Coke. I've tried to be a vegetarian a million times, but I always fall off the wagon. Sometimes I'll go vegan for up to 45 minutes.
I ate dinner at the Chelsea Lately wrap party. Hooray for free food and drinks! I think I had a pork taco, a chorizo taco, a quesadilla, assorted passed hors d'ouevre (let's say nine-ish?), two Midori Sours because it seemed funny at the time, an Auntie Dolores pretzel, and some type of frozen novelty that was prepared before my eyes with a dramatic quantity of dry ice.
Thursday, August 28
I had my usual coffee and an everything bagel with cream cheese and lox. As I ate my bagel, I found myself humming "Everything" by Mary J. Blige. (I have a crazy recall for all things 1997-1998 because that was the year I spent as a suicidal shut-in with only MTV for company.) You'll notice I don't eat a ton of vegetables. I was raised in a really healthy household — my mother passed out raisins on Halloween — and while such an upbringing would instill wholesome habits in most people, I turned into Doughnuts McCigarettes the second I left for college. I do make my kids eat their veggies, though.
I went to yoga class, came home, and ate more trail mix. Then I had a spinach salad thing from Trader Joe's and a lemon LaCroix. I used to be a raging Diet Coke–head — I had my own dedicated Diet Coke fridge at one point — but I only have two or three a month these days. Any D.C. fan knows that LaCroix, the methadone of carbonated beverages, is never going to be an adequate substitute for our silver mistress. But it's allegedly healthier, so here we are.
For dinner, I made chicken, broccoli, and corn on the cob for the kids. I had three glasses of Côtes de Provence and a shamefully large serving of Ben and Jerry's.
Friday, August 29
Coffee. Half a bagel with cream cheese. Then three mini danishes because my freaking brother went to Ralph's and brought them over. One of the pitfalls of working with a sibling is you both regress to immature eating habits. We can kill a bag of Haribo Gold Bears in about 30 seconds. Sometimes we do 5-Hour Energy shots, and I'm like, are we truckers?
For lunch I tried to eat a Cobb salad from Whole Foods. We happened to be pet-sitting a dog named Molly this week. Molly is a black French bulldog who looks like she was plucked from the eave of a Gothic cathedral. I walked out of my office for five minutes to accept some dumb phone call, and when I came back, Molly was facedown in my Cobb salad. Her little muzzle was covered in organic ranch and bacon bits; her snorts were joyful. I felt like I had walked in on sex. I slowly closed the door and backed away, and I didn't get to have any lunch.
For dinner I made some sockeye salmon and veggies for the family. Later that night, though, I found myself wanting Taco Bell bad. I went to the drive-through in North Hollywood, where they know and love me. I always get a Crunchwrap Supreme, which is allegedly Sarah Palin's favorite Taco Bell item. (Remember when Levi Johnston told Vanity Fair that Sarah Palin likes to lie around in Walmart pj's and eat Crunchwrap Supremes? That made me actually like Sarah Palin for five seconds. On a related note, I was also surprised to read this year that Martha Stewart and I wear the same fragrance. Peoples is peoples.)
I finished the night with one bottle of Stella Artois Cidre, which is delicious and pairs well with Taco Bell.
Saturday, August 30
I didn't eat a proper breakfast. I think I had some Special K Pastry Crisps, which are like fake-ass Pop Tarts for self-hating idiots. Only 100 calories, though, which means I'll look extra hot in my black one-piece mom swimsuit with the tummy-control panel.
After that, I drove to Thousand Oaks to pick up my new car and forgot to eat lunch. I did buy a Coke Zero in the waiting room while they were getting my paperwork together. I want to thank Donna in Financing for making the process go so smoothly. While I was waiting, my husband and sons went to a doughnut shop and had doughnuts without me, but whatever, suckers, I got a car.
Later we headed to a party hosted by some friends who are incredible cooks. We had pizza made in a wood-fired oven, homemade sangria, and peppercorn-rubbed beef tenderloin. I always feel a little guilty when I'm served a wonderful homemade meal because I wish I could cook like that. I internalize these things like crazy. I cook everything for too long and I just suck.
Sunday, August 31
I woke up and realized we were out of coffee, which is terrible. I resorted to this instant stuff I keep on hand in case of emergency. I tried to convince myself that it was totally normal and European to drink instant coffee, but it tasted like brown paintbrush-water. I added milk. Still bad.
My son and I went to Target to pick up some stuff, and then we went to a morning birthday party. As soon as I walked in, the mom hosting the party offered me a can of Sofia Blanc de Blancs. I accepted it even though it was only 11 a.m. My son eyed my Blanc de Blancs and asked if he could have a can of soda. Normally, I do not encourage my kids to drink pop, but it was a birthday party, so I said yes. He chose a can of Dr. Pepper from the cooler and said, "Mom, what does Dr. Pepper taste like?" I replied, "Son, that is a riddle for the ages."
A delicious chocolate cake was served. I ate most of my kid's piece, with his permission. He was rolling hard on Dr. Pepper and had attained nirvana. No cake necessary. At night, I made orechiette with sweet sausage and broccoli rabe. (Google those ingredients and you'll find the recipe; it's delicious and you only need one skillet.) Like I said, I'm not a great cook, but I try. I think it's important to at least try to nurture the people in your life.
Monday, September 1
Starbucks iced coffee, work (yes, on Labor Day), skipped lunch. It sounded like everyone was having fun without me, which is a good thing.
We took the kids to a wonderful place called Little Toni's for dinner. We got fried mozzarella, pizza, and spaghetti for the table, and I had a glass of Pinot Gris.
I was very full after that, so I came home, poured a glass of rosé, and settled in to watch the Saved by the Bell movie on Lifetime. I just want to say that the actress who played the blonde network exec was really good, like, too good for the movie. I said to Dan, "She should be on The Newsroom or something." There was a gallon Ziploc bag of Skittles in my underwear drawer, so I brought it out.