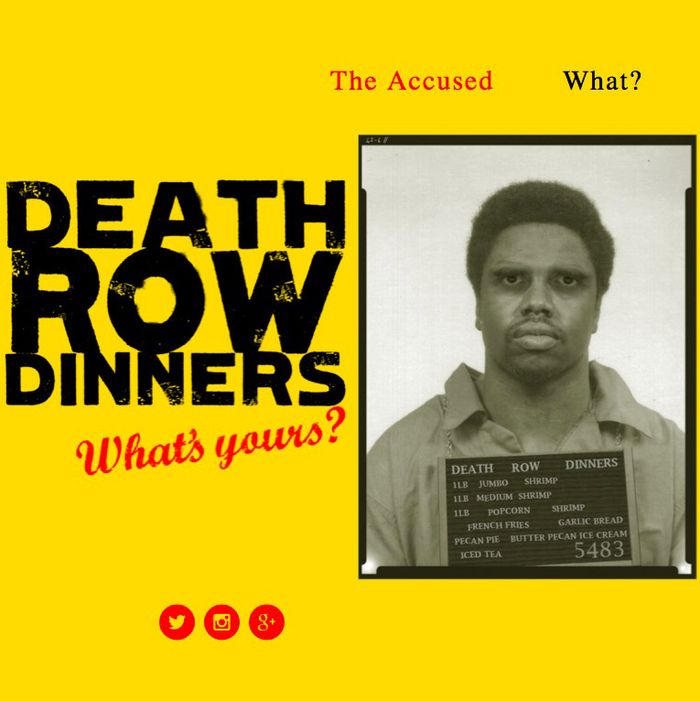 Tables and electric chairs?
The anonymous creators of Death Row Diners Club, a London pop-up that, for £50, proposed to serve guests inmates' last meals, all "without the nasty execution bit," now are "shocked and saddened" by Twitter's nearly unanimous rejection of their concept, adding that they feel "very sorry for any offence." Even in a world of Final Fantasy cafés and toilet-themed restaurants, this one seemed a little off from the get-go.
Let's do this one Zagat-listings style: Death Row Diners Club guests could expect to be "searched," "frisked," and then "incarcerated" with 80 fellow "inmates" and then fed "some of death rows most interesting and popular last dinners," because "anyone who has ever been to a dinner party … had this conversation"? Hoax-like as it seems, its creators swear it's real — or was until this morning, anyway. They apparently expected a much different response from the public, more morbid curiosity and less pointing out how the gimmick is "using people about to be murdered by the state as props." They do not say they'll pause and reflect on their "next steps," which is something of an ironic fate, all things considered.