"There's probably a Starbucks coffeehouse near you," the coffee chain's online store locator says, which turns out to be truer than you may imagine. As part of its generalized world-domination schematic, the green mermaid has infiltrated some of the most remote, highly patrolled, and otherwise deepest corners of society. For a long time, perhaps the oddest Starbucks on Earth could be found within the Forbidden City in Beijing, but that one closed down in 2007. Several more unusual and far-flung coffee counters have opened all over the world since then; here are a few of them.
At CIA headquarters: As America just learned over the weekend, the CIA has its own super-secret in-house Starbucks. The lines for lattes are apparently long enough to have bristled a top official, and of course, baristas can't jot their customers' names on cups. "It just didn't work for this location," says a supervisor at the site, reportedly one of the busiest Starbucks locations in the world.
At Disneyland: Last year, the mermaid appeared on Main Street, U.S.A., causing some chatter about whether this was the kiss of death for the Happiest Place on Earth's "feeling of hometown charm." It turns out that parents' desire to get Pumpkin Spice Lattes outweighs any of those concerns.
On a train through the Swiss Alps: Starbucks's foray into moving-train stores clanked away last November on the Swiss national railway. The café is "one of the smallest" ever designed, but your confusion would be forgiven; Starbucks logos run from locomotive to caboose. It even picked the color theme inside — "the shades and tints associated with coffee" is one way of putting it. "Lots of brown" would be another.
Aboard the USS Boxer and USS Harry S. Truman: Referred to as "Starboxer" and staffed entirely by sailors, the Navy warship's "fully functioning" café gives crew members "one more thing they won't miss" back home. Before it opened early last year, Starbucks whipped baristas into proper frap-blending and milk-frothing shape, but café profits fatten up the ship's Morale, Welfare, and Recreation fund. There's also one on the USS Carl Vinson.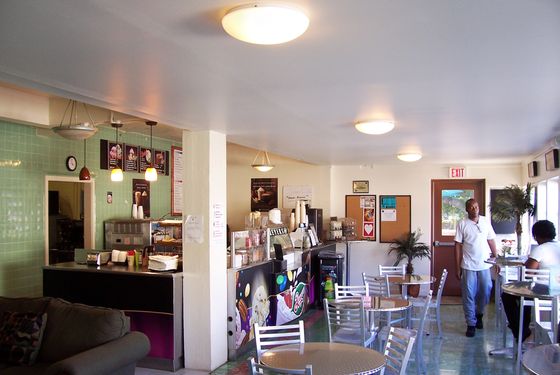 Inside Forever 21's corporate headquarters: Decaf's probably best for the teenage crowd annihilating store racks, but employees in the L.A. corporate office have an unnecessary in-house 'Bucks, complete with the full line of drinks, pastries, and even merchandise.
In a still-operational funeral home: Robinson Funeral Home in South Carolina has doubled as a proud purveyor of Pike and Wi-Fi since 2012, and the owner says it's not just for those grieving. Anyone looking for quiet spot to sip a mocha can enter through the side patio.
At the Tower of London: Visitors too Beefeater'd out can skip the Tower's own offerings "inspired by 1,000 years of great British food" and grab a venti cup of American capitalism instead.
In the Louvre: "The perfect place for a hot drink and a snack while browsing a selection of books published by the Louvre"? It may be necessary, especially if you plan to plow through several wings at the museum.
In the middle of a cruise ship: Royal Caribbean created the world's "first Starbucks at sea" in 2010 when it rolled out its new Allure of the Seas, the world's largest cruise ship.
At the top of a ski slope: An après-ski hot coffee is hardly unusual, but California's Squaw Valley has a café with "an array of hot and cold drinks" that takes ski-up window orders without unstrapping. There are even tables set up in the snow.
At Guantánamo Bay: The Department of Defense helped set up this café, Wi-Fi enabled, "just a stone's throw away" from the detainee camps. It's proven controversial, and Starbucks's official position is that it doesn't take a position on Gitmo's legality, though national-security journalists have noted the policy of trading its coffee for detainee intel often had "the same — and probably better — effect" as torture. This place isn't an official Starbucks; the coffee is just poured there. It also is "a family favorite for splits and sundaes."